In today's data-driven world, data analytics has become crucial for businesses looking to gain a competitive edge. Data analysis has come a long way since the early days of computing. In the beginning, computers were mainly used to crunch numbers, but as they became more powerful, they began to take on more complex tasks. Many of these tasks would rely on identifying useful patterns within the data.
With the advent of big data, businesses started to realize the potential of effective data analysis to uncover valuable insights and gain a competitive edge. Today, data analytics has become an indispensable tool for businesses of all sizes. It enables them to understand their customers better, improve their marketing strategies, and make evidence-based decisions. In this article, we'll dive into the world of data analysis and explore the many benefits it can bring to your organization.
What is Data Analytics?
In today's fast-paced business world, analyzing data has emerged as a game-changer for organizations seeking to gain a competitive edge. 
But what exactly is it, and how does it impact the business world? 
Data analytics involves the collection, processing, and analysis of large data sets to identify patterns, trends, and insights that can inform business strategy and decision-making. With the latest technologies, businesses can now mine vast amounts of data to gain a deeper understanding.
4 Types of Data Analytics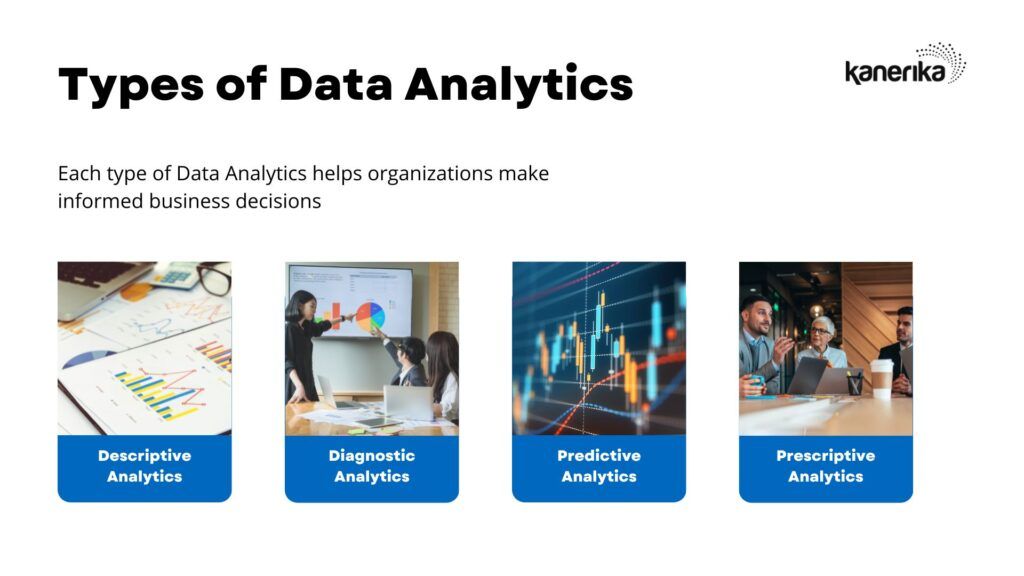 Descriptive, diagnostic, predictive, and prescriptive analytics are four different types of data analytics, each with its own purpose and focus:
Descriptive Analytics:

Descriptive analytics involves the analysis of historical data to understand what happened in the past. The goal is to gain insights into past performance and trends. Descriptive analytics is often used to generate reports and visualizations that summarize data.

Diagnostic Analytics:

Diagnostic analytics involves the analysis of data to understand why something happened in the past. The goal is to identify the root cause of a problem or issue. Diagnostic analytics is often used to investigate specific incidents or issues that occurred in the past.

Predictive Analytics:

Predictive analytics involves the use of data and statistical algorithms to make predictions about future events or outcomes. The goal is to identify patterns and trends in data that can be used to make predictions about what will happen in the future. Predictive analytics is often used for forecasting and trend analysis.

Prescriptive Analytics:

Prescriptive analytics involves the use of data and analytical models to provide recommendations for actions that should be taken in the future. The goal is to optimize performance and achieve specific goals. Prescriptive analytics is often used for decision-making and planning.
To summarize – descriptive analytics provides insights into past occurrences, while diagnostic analytics helps to understand why they happened. Predictive analytics makes predictions about what will happen in the future, and prescriptive analytics provides recommendations for what actions should be taken to achieve specific goals.
How Do You Gain From Data Analytics?
Data analytics helps identify patterns and trends that may not be immediately visible. 

It enables businesses to better understand their customer's behavior, and preferences.

It contributes to more effective marketing strategies and product development.

Efficient data analysis allows for the detection of anomalies and potential risks.

Real-time insights lead to quick reactions to changing market conditions.
An emphasis on data analysis has revolutionized how businesses make decisions. Businesses have now shifted away from intuition-based approaches to evidence-based ones.
How Amazon Uses Data Analytics to Drive Business Success
In the early days of Amazon, Jeff Bezos recognized the potential power of data. Even though the company began as an online bookstore, its architecture was designed with data collection and analysis in mind from the very start. 
Bezos saw data as the new oil, a precious resource that could be used to gain valuable insights for his business. Metrics such as customer behavior, market trends, and business performance were now available using effective data collection.
In the age of online shopping, customers are often faced with an overwhelming array of options, leaving them feeling confused. However, Amazon has found a way to combat this problem using the power of data analytics.
By gathering data on customer browsing behavior, Amazon is able to build and fine-tune its recommendation engine, offering personalized product suggestions based on individual preferences. 
The technology behind Amazon's recommendation engine is collaborative filtering. It builds a detailed profile of each customer and suggests products based on the purchasing behavior of similar customers.
Amazon's data collection goes far beyond just tracking what customers buy. It monitors browsing behavior, shipping addresses, and probable income based on address. This wealth of data allows Amazon to create a comprehensive profile of each customer and market to others who fit into the same precise customer niche. This, in turn, leads to improved customer experience and improvement in sales.
Improving Your Data Strategy: Tips and Tools to Consider
Improving data analysis strategy involves several key steps and considerations:
Define your business objectives:

Before investing in any tools, it's essential to define what you want to achieve with data analytics. This will help you identify the types of data and analytics you need, as well as the most appropriate tools to use.

Collect relevant data:

To conduct effective data analysis, you need to collect relevant data. This may include internal data from your company's operations, as well as external data from sources such as social media, market research, and customer feedback.

Clean and process the data:

Data must be cleaned and processed before analysis can take place. This involves removing any errors, inconsistencies, or irrelevant data from your dataset.

Choose appropriate data analytics tools:

There are many tools available, ranging from basic spreadsheets to advanced software platforms. Choose tools that are appropriate for your business needs, budget, and technical expertise.

FLIP

 is an ideal zero-code data analytics tool. 

Apply appropriate analytics techniques:

Different analytics techniques are suitable for different types of data and business objectives. For example, descriptive analytics can be used to understand past trends, while predictive analytics can help you forecast future outcomes.

Continuously evaluate and refine your analytics strategy:

Data analytics is an ongoing process, and you should continually evaluate and refine your analytics strategy to ensure it meets your evolving business needs.
Conclusion
Data Analytics has become a necessity for organizations looking to maximize their revenue and operational efficiency with efficient data practices. Using an effective data analysis tool can help your business gather key business insights that would otherwise not be visible. Looking to make the switch to the perfect Data Analytics tool for your organization? We have got you covered.
FLIP is a cloud-based data tool developed by Kanerika that enables businesses to easily automate their data operations and gain valuable business intelligence without requiring any coding skills. Sign up now for a free account!
Thank you for reading our article. If you would like to request more articles on data, write to us at contact@kanerika.com.
Follow us on LinkedIn and Twitter for insightful industry news, business updates and all the latest data trends online.