In the previous article, we discussed the inception of FLIP, and how we conceptualized the utility of our DataOps tool. In this second installment of our FLIP Diaries series, we will delve into a specific industry undergoing a massive transformation due to technology advancements: insurance. Specifically, how FLIP can transform the insurance industry by enabling automated data processes.
Insurance is a critical sector that affects everyone's lives, yet it's often seen as outdated and lagging behind other industries regarding innovation. However, this is changing rapidly as insurance companies are adopting new technologies and digital solutions to streamline operations and provide better customer experiences. In this article, we'll explore how FLIP is helping insurance professionals stay ahead of the curve and embrace the digital revolution. Let's dive in.
Insurance Tech in Decline – Is There Too Much Data?
The insurance market in the United States is amongst the largest in the world. The U.S. insurance market leads the industry with large employee numbers, high premium volumes, and revenue figures. Insurance premiums in the United States exceed one trillion U.S. dollars annually – that's a lot of money for an industry that depends on data for its profitability.
With data creation doubling every two years, efficiently converting raw data into actionable insights is becoming more difficult for insurance companies.
A survey by Gartner revealed that, on average, businesses lose $15 million annually due to bad data.
This has been especially true for the insurance sector, which purely relies on data crunching and numbers to increase profitability. Earlier, plenty of these tasks were manually undertaken by analysts with the help of slow and complex data tools. 
But today, the rise in automation and methodologies like DataOps has enabled companies to upgrade their data processes. DataOps offers flexibility to companies looking to increase efficiency without spending too much time and money on analytics.
We discussed DataOps has evolved from a theoretical concept in 2014 to a mature discipline that addresses the data challenges faced by enterprises. It focuses on lowering data costs while offering better analytics. DataOps is a set of practices, tools, and methodologies that are used to automate and streamline the data pipeline. 
DataOps tools such as FLIP can help insurance companies manage the complexity of their data and make faster, more accurate decisions. It can also improve compliance, customer experience, and overall efficiency.
Introducing FLIP – The Revolutionary DataOps and Business Intelligence Tool for Insurance
If you're tired of waiting for your IT team to pull reports or struggling to keep up with the data needs of your insurance business, FLIP is the solution you have always been looking out for.
FLIP is a business intelligence and DataOps tool designed specifically for the insurance industry. With its zero-code interface, FLIP can optimize insurance processes and puts the power of data management and analytics in your hands.
Our DataOps platform offers a range of powerful features, including faster onboarding, a business-specific dashboard, and MLOps readiness. 
This plug-and-play tool is easy to use and can be managed intuitively. 
FLIP is Highly Affordable
One of the most significant advantages of FLIP is its cost-effectiveness. Compared to similar DataOps tools, FLIP is 60% more cost-effective and brings a 75% savings in overall DataOps costs. FLIP's zero-code interface and hundreds of pre-added rules and variables make it easy to customize to your unique business needs. This makes FLIP a cost-effective asset for insurance companies looking to increase their revenue and efficiency.
Features That Place FLIP in a Class of Its Own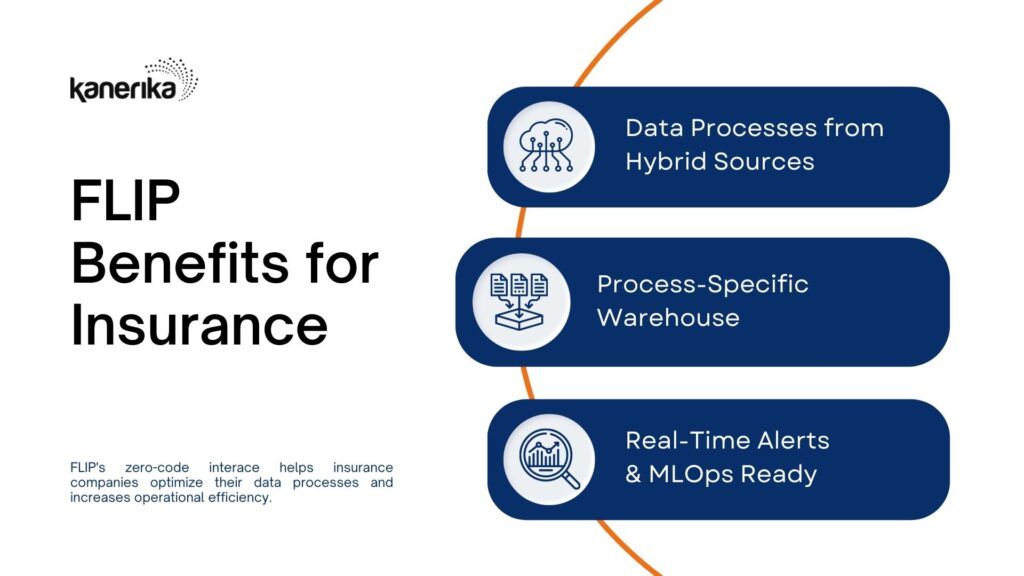 Faster Onboarding
FLIP enables businesses to onboard new data sources quickly and seamlessly. It provides pre-built connectors to integrate with various data sources, including databases, data warehouses, and cloud-based storage. Additionally, FLIP's intuitive interface allows users to map and transform data easily, reducing the time and effort required for onboarding.
Flexible Classifications
FLIP provides flexible data classification options, enabling businesses to organize data based on their specific needs. It allows users to classify data based on various parameters, such as data type, sensitivity, and usage. This feature helps businesses maintain data quality and security and ensures compliance with relevant regulations.
Hybrid Sources
FLIP supports data processing from hybrid sources, including on-premises, cloud-based, and third-party data sources. This flexibility enables businesses to leverage data from multiple sources and enrich their analysis, resulting in more accurate insights.
Monitoring / Alerts / Notifications
FLIP provides real-time monitoring and alerts to help businesses stay on top of their data. It allows users to set up customized alerts based on specific criteria, such as data quality issues, changes in data volume, and processing errors. This feature helps businesses detect issues early and take corrective action quickly.
Process-Specific Warehouse
FLIP provides a process-specific warehouse to store and manage data in specific business processes. This feature enables businesses to manage data more efficiently, reducing duplication and improving data quality. It also helps businesses improve their analysis by providing a consolidated view of data relevant to specific business processes.
Business-Specific Dashboard
FLIP provides customizable dashboards that enable businesses to monitor key performance indicators (KPIs) and gain insights from their data. These dashboards can be tailored to specific business needs, providing a clear overview of data trends and highlighting areas that require attention.
MLOps Ready
FLIP is MLOps ready, enabling businesses to streamline their machine learning (ML) workflows. It provides pre-built connectors to integrate with popular ML frameworks. 
What FLIP Delivers for Your Insurance Business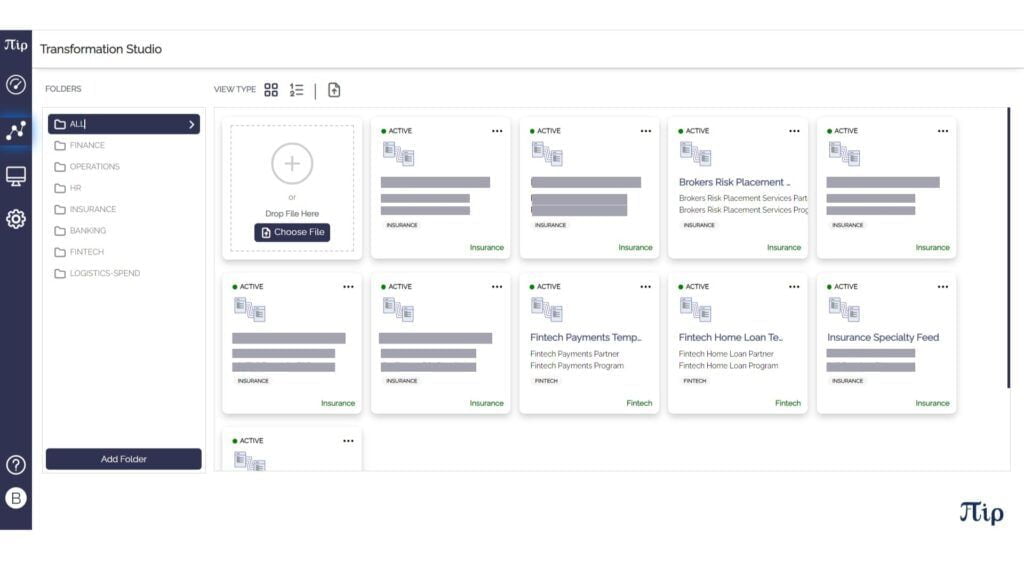 Insurance companies rely heavily on historical data to understand risk, make underwriting decisions, and price policies accurately. However, the volume, variety, and velocity of data generated by insurance operations can be overwhelming and challenging to manage. This is where FLIP fits in perfectly with insurance.
Here are some reasons why your insurance company needs FLIP to increase turnover and customer base. 
Scalability
Insurance companies have to deal with large volumes of data from multiple sources, and this data is constantly growing. FLIP can help manage this scalability by automating the processing and storage of data.
Agility
Insurers must be agile in their decision-making process, especially regarding pricing policies. FLIP can help by automating data analysis and providing real-time insights, allowing insurers to adjust their pricing models quickly.
Compliance 
Insurance companies are subject to various regulations and compliance requirements, such as GDPR and HIPAA. FLIP can help ensure compliance by automating data governance and security.
Customer Experience
To attract customers, you need to provide a seamless experience. FLIP can help by automating data integration across multiple systems and channels, giving you comprehensive knowledge. 
Signing up on FLIP
As the insurance industry evolves, so does the need for efficient and effective data management solutions.
Ready to revolutionize the way you manage and analyze data for your insurance business? Try FLIP today and see the difference for yourself. 
Sign up for a 30-day free account today!
Thank you for reading our new series of posts on FLIP. If you want to know more about Kanerika and FLIP, please write to us at contact@kanerika.com.
Follow us on LinkedIn and Twitter for insightful industry news, business updates and all the latest data trends online.