With industries generating plenty of data every single day, today's companies have plenty of data, but are starved for insights. As business analytics author, Prashanth Southekal, rightly states, "Companies have tons and tons of data, but [success] isn't about data collection, it's about data management and insight."
With the overwhelming amount of data available today (97 zettabytes of data were generated in 2022), data analytics is no longer a luxury for businesses; it is a necessity.
A recent study by Forrester Research showed that:
Data-driven organizations are 162% more likely to exceed revenue goals.

58% are more likely to meet revenue targets compared to non-data-driven counterparts.
Data analytics tools like Microsoft Fabric and Tableau empower organizations to transform raw data into actionable insights. They cater to the growing need for data democratization.
Users across an organization, regardless of their technical expertise, can now engage and explore data through a seamless, user friendly experience. But how do these two tools work, and what's different about them?
Let's explore Microsoft Fabric vs Tableau and discover which works best for your business.
Microsoft Fabric vs Tableau: Understanding the Differences
Microsoft Fabric and Tableau offer a multitude of functionalities. Let's take a deeper look and understand the differences between these two tools.
What is Microsoft Fabric?
Microsoft Fabric is an AI-powered analytics platform that consolidates various data and analytics services into a single solution.
It is designed to streamline the process of data management for organizations. Fabric accomplishes this by providing a unified platform for data storage, movement, science, and real-time analytics.
Microsoft Fabric was officially introduced on May 23, 2023, and as of July 1, 2023, it has been made available to all Power BI tenants, indicating its close integration with Microsoft's existing BI tools.
What is Tableau?
Tableau is a powerful business intelligence and data visualization tool that allows you to connect, analyze, and visualize any data. It's designed to help people see and understand their data. Tableau is widely used by businesses of all sizes to become more data-driven.
Tableau offers a broad and deep analytics platform that can be deployed in the cloud, on-premises. It can also be integrated with Salesforce CRM. Tableau comes with fully integrated AI/ML functions. It also supports data governance and has robust collaboration features.

Microsoft Fabric vs Tableau: Features
Tableau and Microsoft Fabric cater to different target audiences. With an advanced suite of multiple tools, Microsoft Fabric is likely to attract larger organizations deeply embedded in the Microsoft suite. Tableau, conversely, is the choice for users who need a powerful, standalone business intelligence tool.
Core features of Microsoft Fabric:
Data Engineering

: It includes a top-tier Spark platform that enhances data engineering tasks. This allows for large-scale data transformations and data sharing through a Lakehouse paradigm.

Data Factory

: Microsoft Fabric combines the user-friendly Power Query with the scalability and power of Azure Data Factory. The synergy facilitates complex data integration tasks.

Data Science

: The platform offers a comprehensive set of services that encompass data lakes, data engineering, and data integration. It is an end to end platform for data scientists.

Real-Time Analytics and Business Intelligence

: Microsoft Fabric is supported by a shared platform that ensures robust data security, governance, and compliance. All of this is crucial for real-time analytics and BI.

Core features of Tableau:
Broad Data Connectivity

: Tableau allows users to connect to various data sources, whether cloud-based, on-premises. You can even connect to a CRM like Salesforce.

Intuitive Interface

: The platform is known for its user-friendly interface. It encourages exploration and visual analytics without requiring extensive training in data analysis or software usage.

Integrated AI/ML Capabilities

: Tableau includes built-in artificial intelligence and machine learning functionalities. This enhances the data analysis and predictive capabilities.

Governance and Data Management

: It provides robust tools for data governance and management. Tableau ensures that data remains secure, compliant, and well-organized.

Visual Storytelling

: Tableau excels at generating visuals with data, and making complex information easily understandable through visualizations.

Collaboration Features

: The platform offers features that facilitate collaboration among team members. Tableau is perfect for allowing the sharing of insights and dashboards within the organization.
One of the key aspects of Tableau is its intuitive products. The software is built with the belief that data analysis should be about asking questions and not about learning software.
Microsoft Fabric vs Tableau: Architecture and Components
Microsoft Fabric and Tableau are both data visualization and analytics tools. However, they have different architectural frameworks and components.
Microsoft Fabric Architecture:
Microsoft Fabric is designed with a Lake House architecture. This brings together the storage capabilities of data lakes with the management features of data warehouses. It features both physical and logical layers. The logical layers are a storage layer and a compute layer, which form the foundation for the services built on top of them.
Microsoft Fabric Components:

Source: Microsoft
OneLake

: This central component of the architecture is accessible by all elements of the Fabric platform. It is designed to eliminate data silos, reduce data duplication, and significantly lower the total cost of ownership.

Data Engineering

: Offers a top-tier Spark platform with excellent authoring experiences. Data engineers can carry out

large-scale data transformations

and democratize data through the Lakehouse.

Data Factory

: Integrates the user-friendly Power Query with the scalable and powerful Azure Data Factory.

Data Science

: Provides a comprehensive set of services that include data lake, data engineering, and data integration in a unified offering.

Real-Time Analytics and Business Intelligence

: Supported by a shared platform that ensures robust data security, governance, and compliance.
Tableau Architecture:
Tableau's architecture is highly adaptable, allowing for deployment in various environments. You can set up Tableau Server on-premises, in a private cloud or data center, or on cloud platforms like Amazon EC2, Google Cloud Platform, Microsoft Azure.
Tableau Components: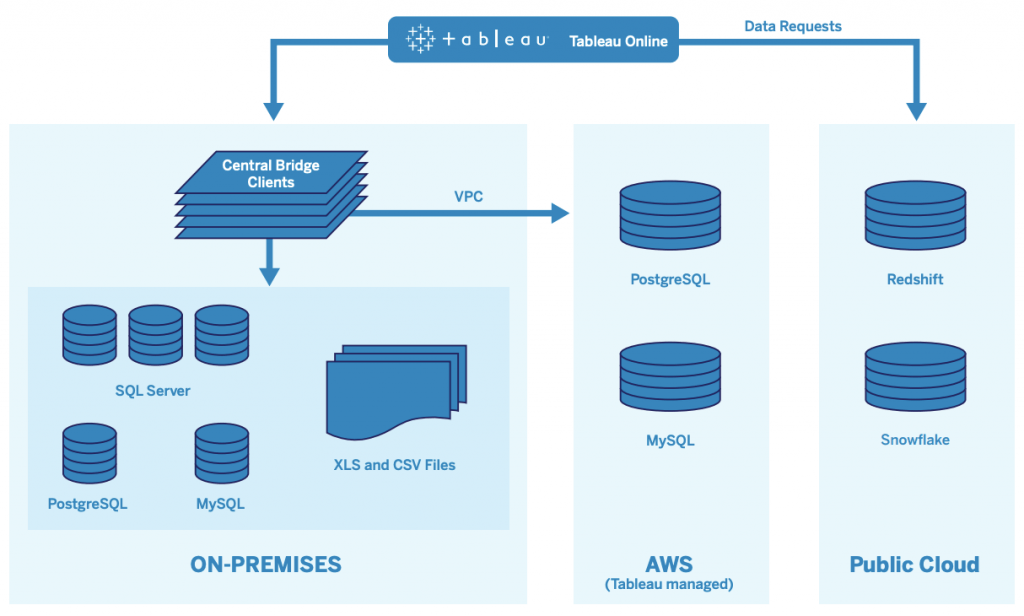 Source: Tableau
Client or Source Data

: This encompasses a range of data types, including OLTP, OLAP, files, and multidimensional data.

Data Connectors

: These include Tableau's Fast Data Engine, SQL Connectors, MDX Connectors, and the Repository.

Main Components

: The architecture's main components are the Data Server, VizQL Server, and Application Server.

Data Server

: As the primary component of Tableau Architecture, it facilitates connections to various data sources, which can be located on-premises or remotely.

Data Connectors

: These connectors serve as the interface for linking external data sources with the Tableau Data Server.
Microsoft Fabric vs Tableau: Use Cases
Microsoft Fabric Use Cases
Here are some primary use cases of Microsoft Fabric and examples from various industries:
Data Integration:

Fabric's Data Factory amalgamates data from multiple sources, allowing for comprehensive data management and decision-making. Hitachi Solutions was one of the first global companies to leverage Microsoft Fabric to integrate their data sources seamlessly .
Predictive Analytics:

With Azure Synapse Analytics, Fabric allows businesses to forecast trends and behaviors, informing proactive strategies. Kepro, a healthcare consulting firm, uses Text Analytics to extract information from large case histories, which Fabric enhances through its unified data lake .
Business Intelligence and Reporting:

Fabric enhances Power BI's capabilities, allowing for efficient analysis and detailed reporting, making strategic decision-making more robust.

Tableau Use Cases
Tableau is leveraged for various use cases across industries, providing insights through data visualization and interactive analytics. Here's a summary of five key use cases with industry examples:
Healthcare Data Analysis:

Tableau facilitates the consolidation of public health and patient data to improve patient care and resource allocation in the healthcare industry. For instance, hospitals use Tableau to analyze patient flow and treatment outcomes.
Educational Data Management:

In the education sector, institutions utilize Tableau to track and analyze student performance and program success metrics. Universities may apply Tableau to assess student achievements across various programs.
Financial Reporting:

Finance professionals in banking, wealth management, and insurance use Tableau to transform static reports into interactive dashboards for real-time insights, such as a wealth management firm visualizing investment portfolios.
Microsoft Fabric vs Tableau: Pricing
Microsoft Fabric Pricing Overview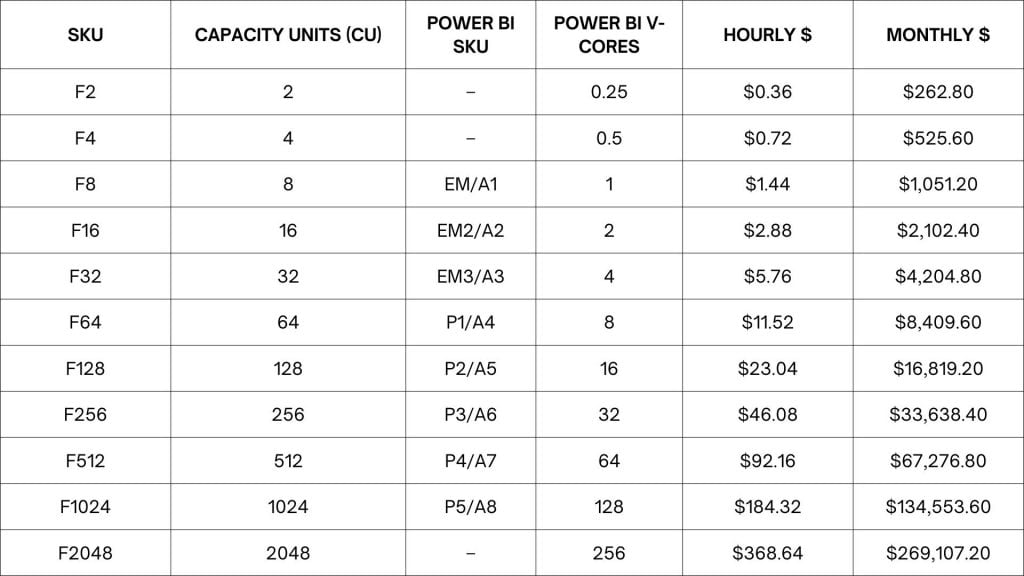 Microsoft Fabric offers a pay-as-you-go pricing model

, which means you pay for what you use without long-term commitments.

The pricing is based on Capacity Units (CUs)

, which are shared across all capabilities within Microsoft Fabric, from data modeling and warehousing to business intelligence.
Specific Pricing Details
Pricing for Capacity Units

: The cost starts at $0.36 per hour for 2 CUs and goes up to $368.64 per hour for 2048 CUs. Monthly rates are also available, starting at $262.80 for 2 CUs and reaching $269,107.20 for 2048 CUs.

OneLake Storage Costs

: This is a single place to store all data, priced at $0.023 per GB per month. For OneLake Cache, which is applicable only for KQL Database workloads, the cost is $0.246 per GB per month.

Networking Charges

: There may be additional charges for cross-region data transfer.

Tableau Pricing and Licensing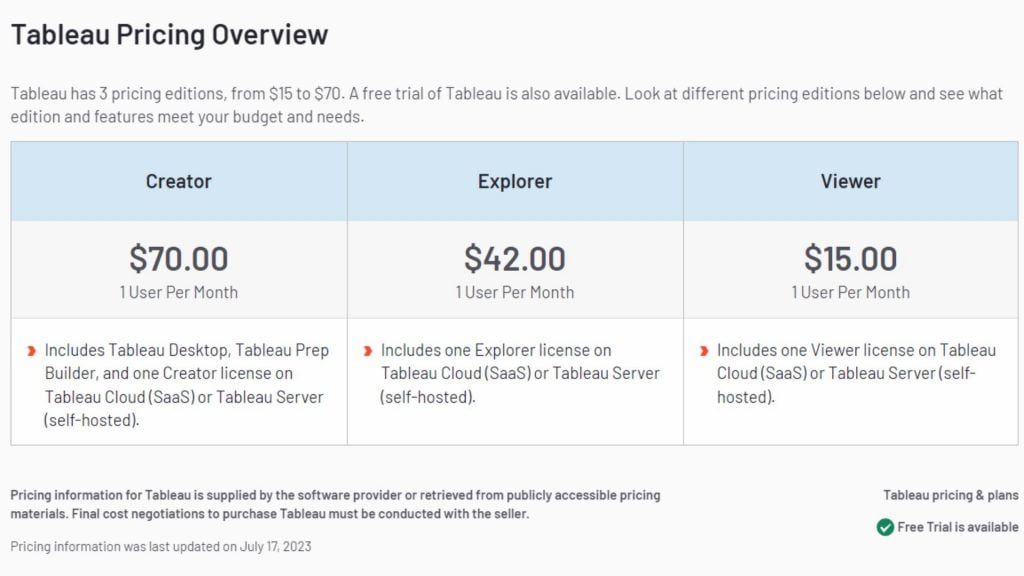 Source: G2.com
Tableau has an expansive pricing model that contains broadly three types of subscription based pricing:
Tableau Creator:

For advanced users who create and publish content. Requires at least one per deployment. Price: $75 per user per month, billed annually ($900 per user per year).

Tableau Explorer:

For intermediate users to create analyses from published data. Price: $42 per user per month, billed annually ($504 per user per year).

Tableau Viewer:

For casual users to interact with published content. Price: $15 per user per month, billed annually ($180 per user per year).

Microsoft Fabric vs Tableau: Comparative Table
Here's a quick comparison table that illustrates the primary differences between both the data analytics tools.
| | | |
| --- | --- | --- |
| Feature/Aspect | Microsoft Fabric | Tableau |
| Tableau vs Fabric – Primary Audience | Larger enterprises with deep Microsoft suite integration | Businesses of all sizes for data visualization |
| Tableau vs Fabric – Key Features | Unified data and analytics platform with real-time BI | Intuitive interface with AI/ML capabilities and visual storytelling |
| Tableau vs Fabric – Integration Capabilities | Seamless with Microsoft ecosystem; 170+ data stores | Flexible connectivity with native connectors and extensibility |
| Tableau vs Fabric – Architecture | Lakehouse with logical storage and compute layers | Adaptable for on-premises or cloud environments |
| Tableau vs Fabric – Pricing Model | Pay-as-you-go with Capacity Units | Subscription-based with tiers for Creator, Explorer, and Viewer |
Microsoft Fabric vs Tableau – Which One is Right for You?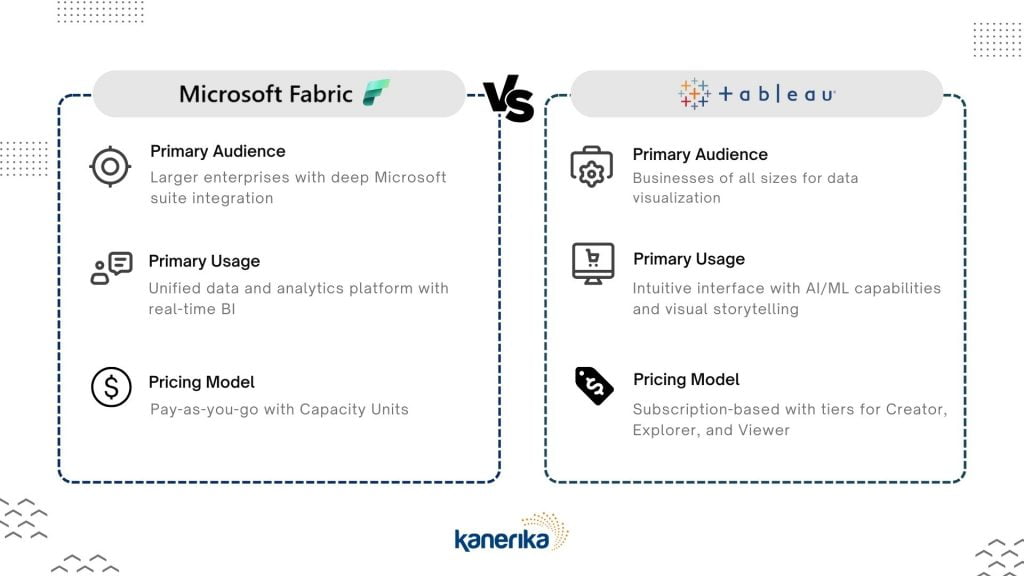 Choosing between Microsoft Fabric and Tableau largely falls on your business needs and the specific challenges you aim to address with data analytics.
If you prioritize a combined analytics solution that integrates smoothly with other Microsoft services, including Azure, and you need a platform that supports a variety of analytics capabilities within a shared and secure environment, Microsoft Fabric is tailored for you.
Microsoft Fabric's Lakehouse architecture and deep ties with Azure Synapse and Power BI make it a formidable option for large-scale enterprises. Especially so, if they require extensive data engineering, real-time analytics, and a consolidated data strategy.
However, Tableau stands out if your enterprise demands a tool renowned for its intuitive user interface and strong visual analytics capabilities. Ideal for companies that value quick insights from any data source, Tableau's AI and machine learning functionalities, coupled with robust data governance, provide a user-friendly yet powerful platform.
Tableau is suitable for organizations of any size that need a flexible and easily deployable tool across various cloud and on-premises environments.
In essence, your choice should align with your strategic goals—whether that means choosing a comprehensive, enterprise-focused tool like Microsoft Fabric or opting for the versatility and user-centric design of Tableau.
Kanerika: Your Partner for Microsoft Fabric and Tableau Implementation
Both Microsoft Fabric and Tableau each offer unique advantages to your business. Determining which solution fits your business and how it should be customized and integrated is no small task, and requires a detailed analysis of your business requirements and your budget. Kanerika helps you discover the solution.
Kanerika's two decades of unparalleled expertise in data management, AI/ML, and generative AI equip us to guide you in selecting the best analytics platform for your business needs.
As a proud Microsoft Gold Partner, Kanerika possesses an exclusive entrée to Microsoft Fabric's sophisticated suite. This partnership, coupled with our in-depth knowledge of Tableau, places us at the forefront of technological innovation, ensuring that our clients always remain ahead of the curve.
Choose Kanerika to elevate your business's data analytics capabilities and unlock the full potential of your data.

FAQs
1. What is the DAX equivalent in Tableau?
The equivalent of Data Analysis Expressions (DAX) in Tableau is its calculation language, which is used to create calculated fields. It doesn't have a specific name like DAX in Power BI but is often referred to simply as "Tableau Calculations" or "Calculated Fields."
2. Why is Tableau so expensive?
Tableau is considered expensive due to its comprehensive analytics capabilities, including its intuitive user interface, robust visual storytelling tools, AI/ML integrations, and strong data governance. The cost reflects the value of these advanced features, the ongoing development of the platform, and the support provided. 
3. Which industry uses Tableau the most?
Tableau is extensively used across various industries, but it has significant adoption in sectors that prioritize data visualization and quick insights, such as healthcare, finance, marketing and sales, education, and the public sector. It's particularly prevalent in industries where decision-making is driven by data analysis and where there is a need for easily interpretable visual reports.
4. Which tool is better than Tableau?
Whether a tool is better than Tableau depends on specific user needs. For some, Microsoft Power BI may be preferable due to its integration with Microsoft's suite of products and its cost-effectiveness. Others might find Google Data Studio's seamless integration with Google's marketing and analytics platforms to be superior.
5. Is Tableau still in demand?
Yes, Tableau is still in demand. It remains one of the leading business intelligence and data visualization tools on the market, valued for its ease of use, powerful visual analytics, and ability to handle large datasets. The demand for Tableau skills is also bolstered by the overall growing trend of data-driven decision-making in business.
6. Who are competitors of Tableau?
Competitors of Tableau include:
Microsoft Fabric and Power BI:
Known for its deep integration with the Microsoft ecosystem and cost-effectiveness.
Qlik Sense:
Offers associative data modeling and is known for its in-memory data processing.
Google Data Studio:
Provides seamless integration with other Google services and is accessible to users with its free version.
Looker:
Excels in data exploration and is designed for the needs of enterprises with big data.
SAS Visual Analytics:
Offers advanced analytics and is well-suited for organizations with complex data analysis needs.