According to Gartner, poor data quality costs companies $12.9 million on average every year, across all industries. As modern businesses are overburdened with data from multiple sources, extracting meaningful insights from them and applying that knowledge in real life can be quite a struggle. 
If you want to avoid losing money in bad data and unlock the full potential of data, your biggest ally is a data transformation tool. Whether you have a dedicated team of data engineers and analysts on board or not, these tools ensure your business is utilizing data correctly, and help you generate reports and insights based on clean and accurate data. 
Looking for a no-fuss data transformation tool?

Explore Kanerika's innovative data solutions and grow your business to new heights. 
What is Data Transformation?
We can define data transformation as the process of converting data from one format or structure into another to make it suitable for analysis, reporting, or storage. A key step in the data processing pipeline, it ensures the data you're working with is accurate and consistent, and enables organizations to make informed decisions. 
Let's take a retail company, for example. The brand collects sales data from multiple touchpoints, including online stores and physical outlets. It's not possible to derive insights from these scattered data points. Using a data transformation tool, the company can extract data from multiple outlets and the website, transform it to arrive at clean and accurate data, perform aggregation and data type conversion, and load it into a central database. The tool can turn disparate data into structured datasets that the brand may use to make better business decisions, optimize inventory, or improve sales strategies. 
What are Data Transformation Tools?
Data transformation tools help convert raw data into usable and structured formats to suit different analytical and reporting purposes. This software includes features like data extraction, data transformation, and data loading (ETL), helping users source data from various sources, applying transformations like filtering, aggregation, and data type conversions, and loading the transformed data into target databases or systems. 
Let's take a look at the 10 best data transformation tools you can get your hands on in 2023. 
10 Best Data Transformation Tools in the USA 
Flip is a game-changing AI-powered data operations platform that revolutionizes how businesses scale operations, streamline data transformation, ensure quality, and achieve end-to-end visibility. By automating processes, enriching data, validating accuracy, and providing comprehensive data lineage, Flip boosts efficiency and productivity. Its innovative features and cutting-edge technologies unlock the full potential of data assets, catering to diverse enterprise needs. With AI, low-code development, and cloud compatibility, Flip stands out as a comprehensive and powerful platform in the market.
The tool also offers KPI-driven dashboards, pre-built transformation functions, templates, and validation rules for ease of use, and sends out real-time alerts for missed or delayed feed. It has an intuitive drag-and-drop data mapping feature that helps map data elements and establish business rules, ensuring you stay on top of your transformation process without any hassle. FLIP is the way to go if you're looking for an automated data transformation tool with flexible implementation options and a seamless interface. 
What makes it stand out? 
Drag and drop data mapping and version control

Proactive alerting and data lineage visibility

Pre-built RPA connectors and OCR capability

Pre-built industry-specific templates

Enterprise-Grade security

Kubernetes orchestration

To learn more about FLIP and how it can set you up for success, book a free demo today! 
Matillion makes your data work more productive and stress-free. Designed for coders and non-coders, this platform offers instant deployment, allowing you to move, orchestrate, and transform data pipelines at scale. 
It's built for cloud data platforms like Snowflake, Databricks, Amazon Redshift, Microsoft Azure Synapse, and Google BigQuery. Thanks to its seamless visual designer that doesn't require coding, you can perform complex ELT without using any analytics. Coders can use SQL, dbt, and Python for performing these tasks—there is a lot of flexibility available for teams with different technical abilities. 
Dbt has revolutionized data transformation with its SQL-first transformation workflow. Whether you store your data in the cloud, data lake, or a data warehouse, dbt allows you to transform it with ease. It supports both Python and SQL. 
With provisions for version control, testing, logging, and sending out notifications, you can get rid of data doubt and deploy confidently. While this is a widely popular tool trusted by enterprises all around the globe, it may not be an ideal solution for teams with varied technical abilities. However, more out-of-the-box solutions for managing industry-specific procedures would be nice. 
Understanding the unique requirements of various business documents/objects, Flip offers pre-built unstructured document extraction and validations e.g. Invoices, Purchase Orders, Receipts, Insurance policies, and more. These out of the box objects support streamline data transformation processes and incorporate standardized business rules, reducing implementation time and effort for organizations operating within specific industries. IT leaders can leverage these templates to accelerate their data transformation initiatives and drive industry-specific insights. Try Flip free for 30 days! 
Fivetran is an automated data platform providing ELT (extract, load, and transform) functions to businesses. It is handy when you want to move data into, within, or across the cloud. The tool is heavy on automation, which helps reduce the tedious workload of data engineers. 
The platform is designed so that you can centralize your ELT and convert them into insights without the help of any third-party software. If you're looking to speed up data transformation at your company, this is a tool you might want to consider. 
Keboola is a comprehensive data platform where you can get end-to-end ETL— extract, transform, manage data, and build data pipelines, all in one place. Designed to speed up the work of data analysts, data engineers, and analytics engineers, this tool promotes automation to reduce dependency on human labor and make processes more efficient at your company. 
When it comes to data transformation, Keboola offers a no-code approach, which is ideal for non-tech teams. If your team is familiar with coding, you could opt for SQL, Python, or R, depending on your preference. It comes with 250+ built-in integrations and fits into your workflow seamlessly, whether you use Snowflake, Airflow, GitHub, Spark, or any other tool. 
Datameer is a data transformation tool designed to make life easier for data engineers and analysts. With this software, you can create new datasets and data pipelines, transform data in Snowflake, and reduce data engineering time at your company. The tool streamlines complex SQL operations, gives you visibility of Snowflake's analytics resources and their costs, helps you embrace innovation without exceeding your budget, and allows you to automate data analysis by leveraging the power of AI. 
The simple-to-use canvas interface can be scaled depending on your team's technical knowledge, ensuring every member can analyze data and have access to insights. The tool offers an option to go with no-code Drag-and-Drop or use SQL code to transform data, fostering a collaborative environment between business users and engineers. Be it creating ad-hoc data flows or advanced pipelines, this tool can do it all. If you're facing long development cycles at your organization, your team members have different skill sets and preferences, or you want to centralize your analytics, Datameer is a good option. 
Talend is a data management solution that brings together data integration, data quality, and data governance under one roof. This end-to-end data management solution supports integrations with Snowflake, MS Azure, AWS, and more, offering ample flexibility. This is a low-code platform, so your team doesn't have to use complex coding to facilitate data transformation processes. 
It's a great platform for enterprises handling massive volumes of data, businesses rapidly scaling up, and companies looking to invest in advanced data analytics. Talend improves operational efficiency across departments and provides greater visibility into data. 
However, it can be a pretty expensive data transformation tool for businesses scaling up rapidly, especially if the budget is one of the major constraints. '
Flip on the other hand, is a  less expensive alternative to Talend and has a more intuitive interface. Book a free demo call with our tech experts to see Flip in action. 
SAP Data Services is a versatile data transformation and integration tool that helps improve data quality. It empowers enterprises to transform structured and unstructured data by reducing duplicates and fixing quality issues. 
When you gain access to contextualized insights, it's easier to understand the true value of the data you have at hand. You can centralize this data on the cloud or within BigData and discover insights to facilitate better decision-making. The tool is particularly suitable for enterprises, offering features like parallel processing and bulk data loading to improve scalability. 
Read More: Efficiency And Security: FLIP's Dual Superpowers For Data Operations
CloverDX is a tool that makes automation and data pipeline management seem like a cakewalk. This software prioritizes two goals: control and accessibility. It empowers your developers and allows business users to access relevant data. 
With readymade templates and automated transformation, this tool can reduce the workload of busy teams, and improve efficiency and scalability simultaneously. It integrates smoothly with your current IT environment, allows you to monitor or troubleshoot processes in the cloud, on-premise, or hybrid setups, and enables you to publish your data at a desired destination, whether at an API, app, or storage. 
If your company is looking to work across multiple databases, Informatica could be your choice of data transformation tool. This cloud-native software helps you instantly extract, transform, and load data into data warehouses. Depending on your company's needs and preferences, you can choose between Power Center (end-to-end ETL designed for enterprises) or Cloud Data Integration (IPaaS). 
As far as data transformation is concerned, you can give it any data, which will seamlessly transform it into usable data. Thanks to the low code, no code approach, the tool democratizes data across all teams, irrespective of their technical knowledge. Informatica's Intelligent Data Management Cloud™ utilizes artificial intelligence, helping enterprises to stay ahead of the curve and enhance business results. 
Which is the Best Data Transformation Tool for my Business?
When you have the right data transformation tool, your business will have access to high-quality data with minimal or no mistakes or duplicate enhanced retrieval times, and you'll be better equipped to manage and organize data. It can be overwhelming to choose a tool when so many great solutions are available in the market. 
The key here is to understand and evaluate what you're being offered, your requirements, the price you're paying, and whether the tool is seamless to use for all of your team members. 
Rethink Data Transformation with FLIP
FLIP emerges as the best data transformation tool available in 2023. The no-code tool democratizes data across teams and allows you to unlock the real potential of your data pipelines in less time and with minimal costs. Here's what our clients have achieved after switching to FLIP:
Based in the USA,

a telemetry analysis platform

used FLIP to transform messages according to customer requirements.

Flip helps Global Consumer Good Company gain real-time visibility into their supply chain by integrating data from suppliers, logistics partners, and production systems. This enables better inventory management and demand forecasting.
A US-based Logistics Company experienced a remarkable 63% increase in productivity and a cost reduction of 38% in processing through FLIP-empowered proactive alerting and AI-enabled processing,
The exciting part is that you can replicate this success for your business using the same tool!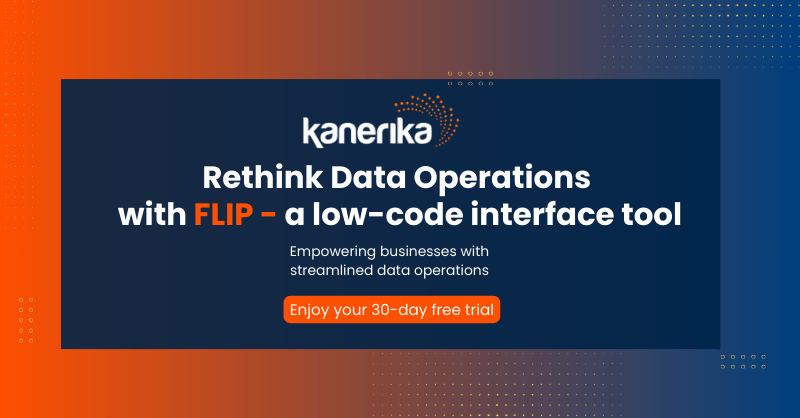 FAQs
What are some of the benefits of a data transformation tool?
A data transformation tool streamlines data processing, enhancing accuracy and efficiency. It enables seamless integration, cleansing, and enrichment, ultimately optimizing decision-making and insights.
How to choose a data transformation tool?
Selecting a data transformation tool hinges on factors like compatibility, scalability, ease of use, and support for diverse data formats. Prioritize solutions with robust data handling capabilities and adaptability to specific business needs.
What is the best data transformation tool USA Free?
FLIP by Kanerika USA is a prominent tool used for data transformation. It offers comprehensive features for data integration, cleansing, and transformation, catering to diverse business needs. Its visual interface and extensive connectors make it a preferred choice for managing data flows.