McKinsey says data is the most critical asset of any organization, as companies that rely on data to make strategic decisions tend to perform better. However, data is not always reliable or real-time.
Studies indicate that 55% of data is not accessible during decision-making, costing companies an estimated $15 million annually, Meanwhile, data scientists spend 60% of their time cleaning data. Enter – Automated Data Integration.
Data integration allows businesses to combine and leverage disparate data from various sources. This is increasingly important as the amount of data expected to be created over the next few years is set to surpass the data generated over the past 30 years.
Automated integration has become essential in today's digital landscape, where purpose-built applications such as CRMs, ERPs, proprietary systems, and mobile-based applications are generating vast amounts of data. Organizations are integrating these applications to address challenges posed by inaccessible information and growing software silos.
What is Automated Data Integration?
Data integration is the process of unifying data from various sources into a single dataset for analysis. It has applications in multiple professions, including statistics and finance, and is projected to reach a value of $10.84 billion by 2022, with an 11.6% growth rate between 2021 and 2022. 
Nevertheless, as businesses generate vast amounts of data from various software applications, they face the challenge of managing and integrating it effectively.
To address this challenge, businesses adopt integration and collaboration practices to prevent team silos and manage large volumes of data. With the desire to speed up processes and automate daily tasks, organizations often turn to data integration automation.
Data integration automation involves automating integration tasks to run without human intervention, improving efficiency, and reducing IT costs while saving time and resources. This solution allows businesses to accelerate service delivery and enhance customer experience while preventing errors.
Need for Automated Data Integration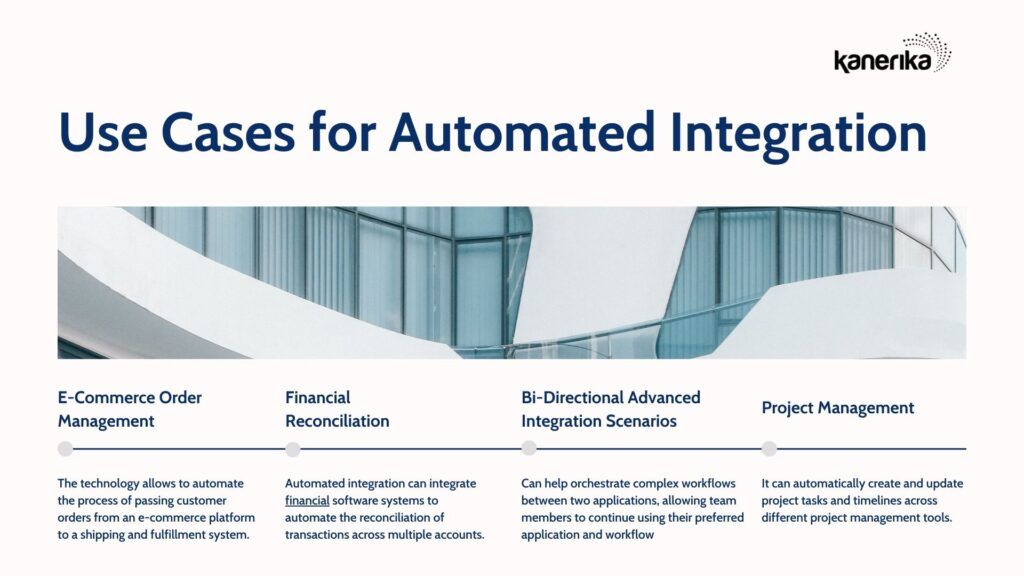 As modern businesses demand more advanced integration scenarios, automated integration offers a solution to streamline workflows, connect global networks, and adapt to changing business needs. Here are some common use cases for automated integration:
Bi-Directional Advanced Integration Scenarios
Automated integration tools can help orchestrate complex workflows between two applications. This allows team members to continue using their preferred application and workflow. This can simplify team collaboration, eliminating the need to switch between different systems.
Shorter Time Frames
Automated integration can accelerate the rollout of integrations, reducing the time required from months to days or weeks.
Scalability and Flexibility
Automated integration can enhance the scalability, reliability, and flexibility of integrations to adapt to changing business needs.
Customer Data Integration
Automated integration can automatically import customer data from a website into a CRM system for sales and marketing purposes.
Order Management
The technology allows to automate the process of passing customer orders from an e-commerce platform to a shipping and fulfillment system.
Financial Reconciliation
Automated integration can integrate financial software systems to automate the reconciliation of transactions across multiple accounts.
Project Management
It can automatically create and update project tasks and timelines across different project management tools.
It's important to note that automated integration solutions can differ based on the specific use case and the technological approach required for each scenario.
How does Automated Data Integration Work?
Automating an integration is a challenging endeavor that requires careful planning and attention to detail for a successful outcome. To achieve this, a systematic approach is necessary. Here's an outline of the steps involved:
Start with a clear integration strategy that defines the objectives, scope, and key stakeholders involved.

Identify the data mappings, transformations, and events that trigger data exchange between the integrated systems.

Engage all relevant stakeholders early in the process to prevent potential changes or disruptions later in the project.

Choose an appropriate

integration solution

that can handle the diverse data types, volumes, and speeds involved in the integration process. 

Implement the integration solution in a modular way, focusing on one component at a time. Conduct a Proof of Concept to validate its feasibility and potential.

Deploy the integration in the production environment, where it can run automatically and continuously.

Test the automated integration against various integration scenarios to ensure it performs as expected and meets the required performance standards.

Maintain the integration solution to ensure it operates smoothly and can adapt to any changes or downtimes in the system.
Given the complexity and dynamic nature of modern integration requirements, manual or outdated approaches like ESB or ETL are no longer feasible. Instead, businesses must adopt modern, flexible, and scalable solutions that can keep up with the evolving IT landscape.
Benefits of Automated Data Integration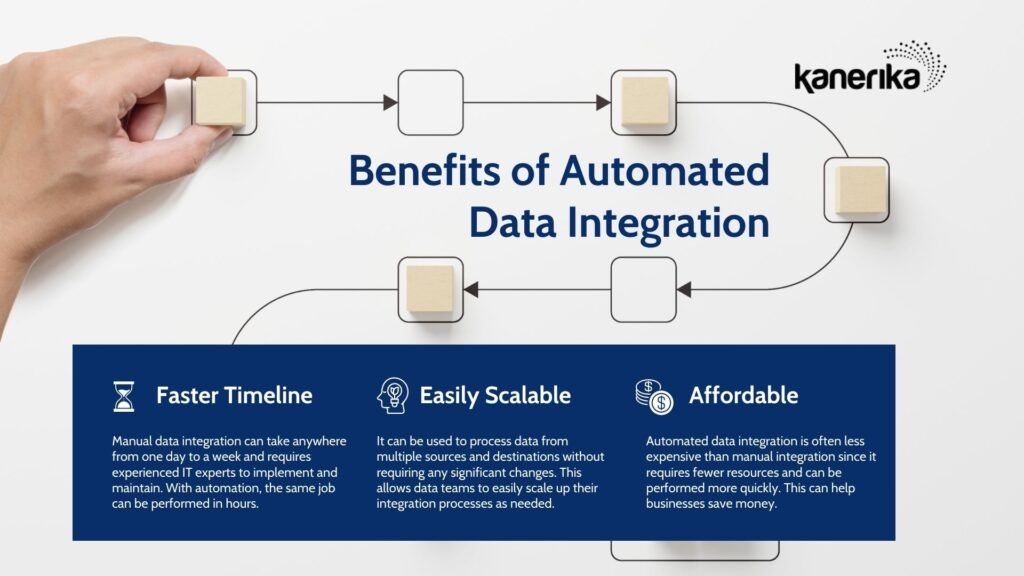 Automated data integration has several benefits that can greatly improve the efficiency and effectiveness of BI projects:
Powers Big Data Projects 
As the volume of data continues to grow, ETL teams need more time to analyze it and generate insights. Automated data integration tools can process data consistently and quickly, allowing teams to focus more on analysis and less on manual data preparation.
Faster Timeline
Manual data integration can take anywhere from one day to a week and requires experienced IT experts to implement and maintain. With automation, the same job can be performed in hours, freeing up time for ETL teams to focus on more valuable work.
Easily Scalable
Automated data integration is scalable, meaning it can be used to process data from multiple sources and destinations without requiring any significant changes. This allows data teams to easily scale up their integration processes as needed.
Affordable
Automated data integration is often less expensive than manual integration. This is because it requires fewer resources and can be performed more quickly. This can help businesses save money while still achieving their integration goals.
Long-term Solution
Automated data integration allows businesses to focus on long-term forecasts and analysis. It achieves this by easily integrating data from multiple sources into its data warehouse. This can help businesses gain valuable insights into their operations and make more informed decisions.
Automated data integration is critical in managing and integrating vast amounts of data from different software applications. It offers a cost-effective solution to streamline workflows, connect global networks, and adapt to changing business needs. With automated data integration tools, complex workflows between applications can be orchestrated, leading to increased efficiency, scalability, reliability, and flexibility in adapting to changing business needs.
Streamline your Data Management with FLIP: The Solution for Automated DataOps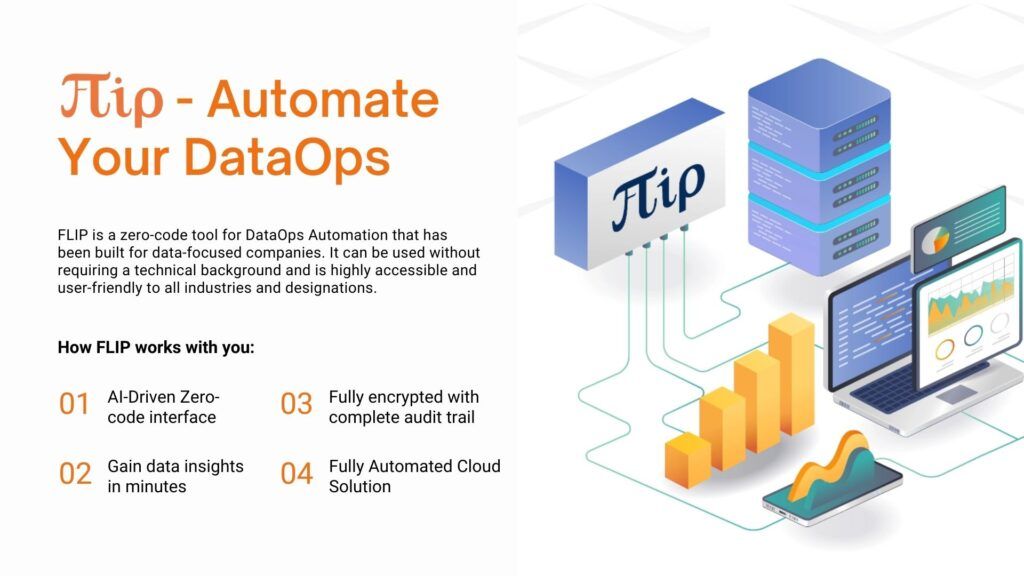 Automated data integration is critical in managing and integrating vast amounts of data from different software applications. It offers a cost-effective solution to streamline workflows, connect global networks, and adapt to changing business needs. 
FLIP, a Fully-automated DataOps platform, helps you automate, simplify & enrich your data management in a few clicks. It lets you extract and load data from multiple sources, including your Data Warehouses and Databases. 
Additionally, FLIP's built-in data transformation capabilities can help with data mapping, data cleaning, and data enrichment, making it easier to ensure data quality and consistency across different sources.
Looking for expert guidance to automate your data integration process? Sign up for a free consultation today!
Thank you for reading our new series of posts on FLIP. If you want to know more about Kanerika and FLIP, please write to us at contact@kanerika.com. 
Follow us on LinkedIn and Twitter for insightful industry news, business updates and all the latest data trends online.