As the insurance industry continues to evolve, data integration has become a key area of focus. With the vast amounts of data available, it has become increasingly challenging for insurance companies to make sense of it all and derive valuable insights.
In this article, we will explore the benefits of data integration for insurance companies and how it can help them make more informed decisions, better understand their customers, and gain a competitive edge in the market. We will also introduce FLIP, a cost-effective data integration tool specifically designed for the insurance industry.
What is Data Integration?
Data integration is the process of combining data from different sources into a single, unified view. This is to gain a more complete and accurate understanding of the data. Data integration also makes it a lot easier for businesses to use and analyze information.
There are several different approaches to data integration. They all involve bringing together data from multiple sources and transforming it so that it can be combined and analyzed together.
This involves cleaning and formatting the data and resolving inconsistencies and conflicts between different sources. The next step is mapping data elements from different sources to a common schema.
Data integration is a crucial aspect of business operations, as stated by over 80% of decision makers. A significant percentage of enterprises are relying on data integration to support analytics and BI platforms, with 67% using it today and 24% planning to use it in the next 12 months.
Data integration enables organizations to make better decisions by gaining a more comprehensive understanding of their data. It can also be used to support data migration and consolidation efforts and create a more streamlined data architecture.
How Does Data Integration Help Insurance Business?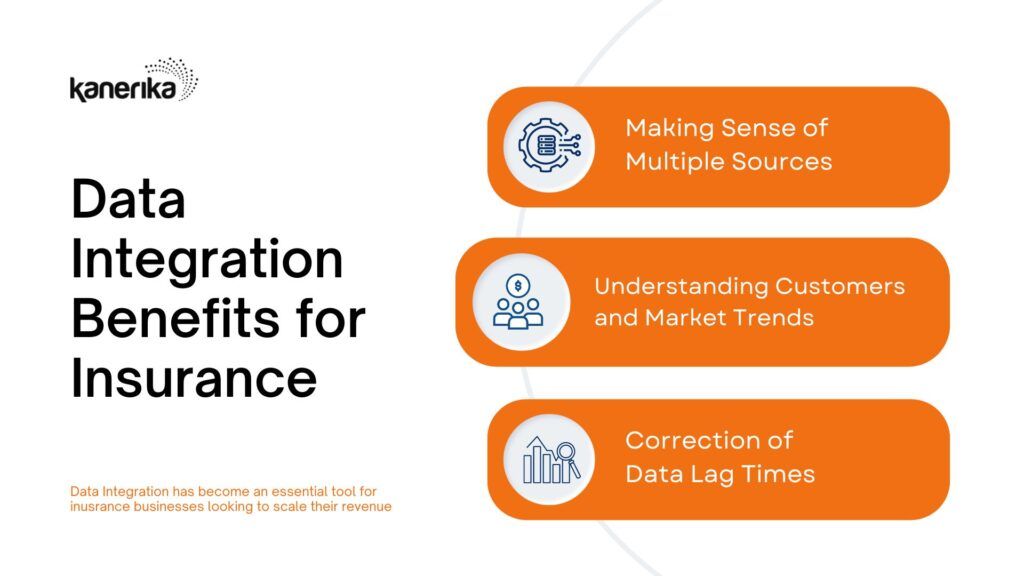 Here is a straightforward explanation of what data integration can deliver for your insurance business. 
Making sense of multiple sources 
Assimilating and collating multiple sources of data is a critical process that helps insurers gain a better understanding of their business operations. This process involves bringing together data from disparate sources, such as customer data, sales data, financial data, and social media data and then organizing and analyzing it to extract valuable insights.
Understanding customers and market trends
Data integration is a critical tool for understanding customers and market trends in the insurance sector. Rapidly changing customer profiles and a digital landscape that has made traditional data unreliable. By leveraging data integration, insurers can gain a better understanding of customer behavior, preferences, and expectations and tailor their products and services to meet those needs.
Correction of data lag times 
One of the main roadblocks in utilizing data for analysis and insights is the presence of lagging data. While there is a vast amount of data available, much of it is unstructured and difficult to process. This poses a significant challenge for insurance companies that want to learn about customers' behavior.
Fortunately, data integration can help insurance companies overcome this challenge. By integrating data from a variety of sources, including customer data, social media data, and demographic data, insurers can gain a better understanding of their clientele. This, in turn, can help insurers to develop more tailored products and services and raise the customer satisfaction index. 
How Insurance Sector Can Harness the Power of Data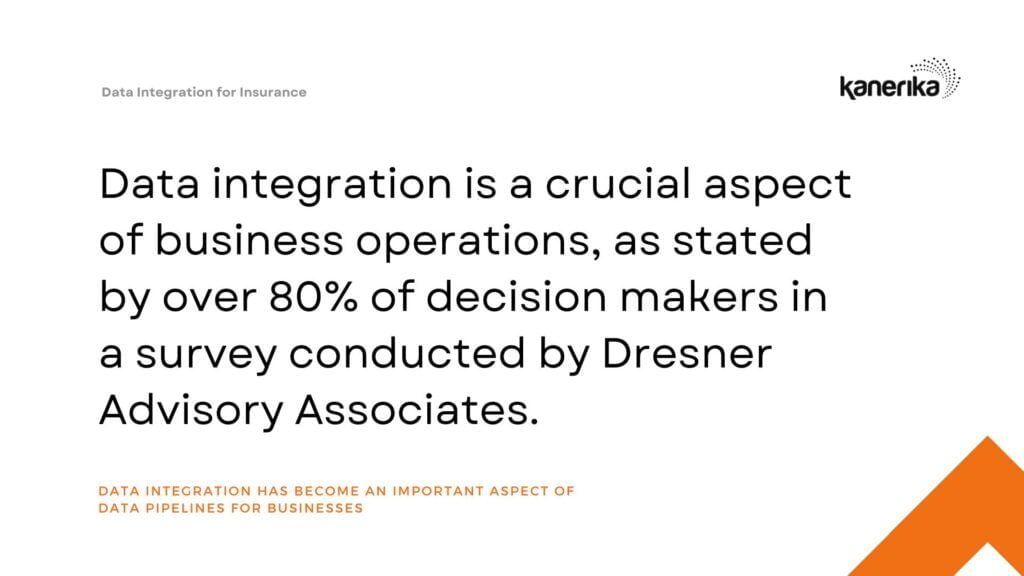 As the insurance industry continues to evolve, data integration has become a key area of focus. Here are a few methods through which insurance companies can apply data integration processes to their current pipelines:
Identify the business problem or opportunity: Start by defining the business problem or opportunity you want to address.
Determine the data you need: Once you have identified the problem, determine what data you need to answer your questions.
Collect and store the data: Collect and store the data using a data management platform to store and manage your data. 
Analyze the data: You have to use statistical models, machine learning algorithms, or data visualization tools.
Interpret the results: This may involve identifying patterns and trends, making predictions, or testing hypotheses.
Take action: Take action e.g. implementing new strategies, optimizing existing processes, or developing new products or services. 
Monitor and evaluate: Monitor and evaluate the impact and refine your approach based on feedback and results.
FLIP: The Best DataOps Tool for the Insurance Industry
Introducing FLIP, the ultimate data integration tool for insurance companies. FLIP is an affordable solution that offers a variety of pre-configured templates, transformation functions, and validation rules that are specific to the insurance industry.
With FLIP, you can seamlessly integrate data from multiple sources, gaining valuable insights into customer behavior and improving your risk assessments. Our intuitive platform is easy to use, and our team of experts is always on hand to provide support and guidance as needed.
But what really sets FLIP apart from the competition is our cost-effectiveness. It is 60% more affordable than similar DataOps tools on the market. This means that you can enjoy all the benefits of data integration without breaking the bank.
Don't let the complexity of data integration hold you back. With FLIP, you can take control of data integration and gain a competitive edge in the insurance industry. Try FLIP today and see the difference for yourself! Sign up now for a free account!
Thank you for reading our post. If you want to know more about Kanerika, please click here, or write to us at contact@kanerika.com.
Follow us on LinkedIn and Twitter for insightful industry news, business updates and all the latest data trends online.