On-demand Webinar:
Unlocking the Power of
Microsoft Fabric

– Revolutionize
Your Data Analytics Journey
Embark on a transformative journey with our exclusive on-demand webinar.
Unlock strategies to maximize your data assets and accelerate your business
outcomes in the digital age. Harness the power of Microsoft Fabric to make
data analytics your compass and innovation your destination.
Navigating the intricate landscape of data analytics can be daunting. Microsoft Fabric, however, provides a unified solution that simplifies and transforms data management, analysis, and insight extraction. In this on-demand webinar, join Amit Chandak, Chief Analytics Officer at Kanerika, as he delves into the capabilities of Microsoft Fabric, illustrates its pivotal role in data analytics, and provides practical insights on implementing its lake-centric approach for efficient data management. Discover how to foster a collaborative data culture that fuels innovation and productivity. Access this expert guide to unlock the full potential of your data assets with Microsoft Fabric, at your convenience.
You will gain valuable insights into how Microsoft Fabric can revolutionize your data engineering and data analytics journey. Whether you are a data professional, business user, or decision-maker, this webinar will equip you with the knowledge and tools to unlock the full potential of your data assets
Unified Analytics Platform: Learn how Microsoft Fabric consolidates data processes into a single platform, streamlining analytics and business intelligence.
Lake-Centric Approach: Understand Microsoft Fabric's data storage strategy, ensuring a single, consistent data source using the industry-standard Delta Parquet format.
Empowering Users: Discover how Microsoft Fabric nurtures a collaborative data culture, enhancing productivity and driving innovation across roles.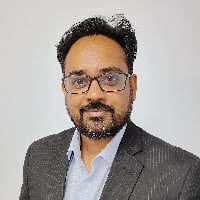 Amit Chandak is a technology entrepreneur with more than 20 years of experience. He co-founded ProGen Business Solutions that won the NASSCOM Emerge 50 Award in 2014. At Kanerika, he is the Chief Analytics Officer and is instrumental in driving technology innovation thriving on his expertise in data and analytics. A Microsoft MVP, he is a seasoned PowerBI community member who was in the panel while testing out Fabric.