Why ISO/IEC 27701 Certification is Essential?
The ISO 27701 standard, a PIMS (Privacy Information Management Standard), specifies a detailed set of operational requirements that can be adapted to a variety of regulations, including GDPR (General Data Protection Regulation) compliance. ISO 27701 is a framework that is built to complement the widely used ISO/IEC 27001 and ISO/IEC 27002 standards for Information security management. It lays out the requirements and control objectives for; and provides guidance for establishing, implementing, maintaining and continually improving- a PIMS. Thus, making the implementation of PIMS a helpful compliance addition for the organizations that rely on ISO/IEC 27001, as well as creating a strong integration point for aligning security and privacy controls. ISO/IEC 27701 attains this integration through a framework for managing personal data that can be used by both data controllers and data processors, a key distinction for GDPR compliance.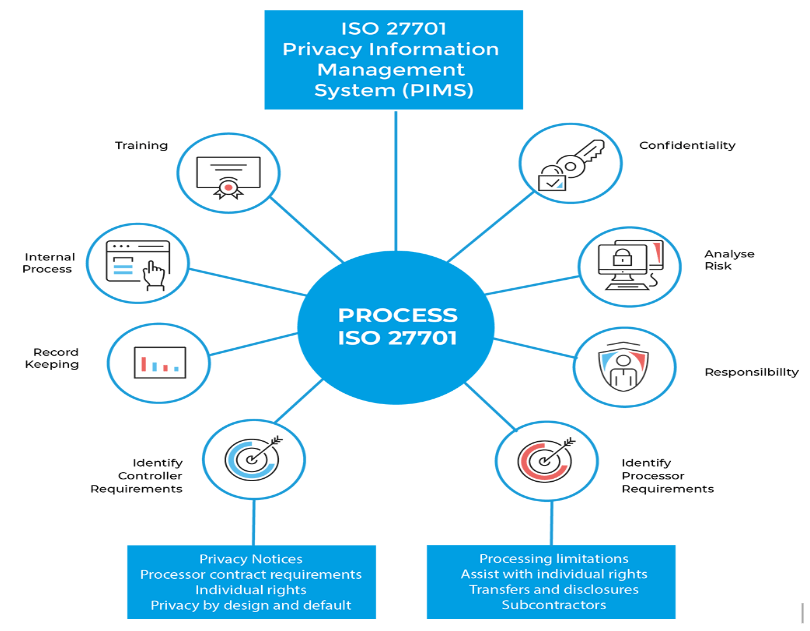 How do companies get ISO 27701 certified?
ISO/ IEC 27701 audit requires the organization to declare laws/ regulations in its criteria for the audit i.e., documenting the policies, procedures, protocols and activities in line with the standard operational checklists under GDPR, CCPA or other laws. Once mapped, the ISO/IEC 27701 operational controls are implemented by privacy professionals. An internal or external third party, who has accreditation to assess, then evaluates the organization's compliance with the requirements of the standard and issues certification to that effect. This universal framework allows organizations to efficiently implement compliance with new regulatory requirements. 
Need and Benefits of ISO 27701 certification:
With cyber attacks and data breaches on the rise, information security is a top priority for all the organizations. ISO 27701 is a privacy extension to ISO 27001 and specially designed to help protect and control the personal information you handle. PIMS is used to comply with GDPR. 
A privacy information system in conjunction with ISO 27001 is a practical management tool to help you stay on top of privacy within your organization. Identifiable risk analysis and documented internal processes alongside relevant training demonstrates the best practice. 
The business benefits include:
Proof of Compliance with data protection regulations and legal requirements:
ISO 27701 provides the ideal mechanism for managing compliance with regulations from multiple jurisdictions around the world. A key difference from the BS 10012 is that it is jurisdictional neutral. Most importantly, it aligns with the GDPR and one of the appendices specifically addresses mapping with the regulation. 
By complying with ISO 27701, you will generate documentary evidence on how you process PII. Data protection managers will be able to use the documentary proof as a part of PIMS to provide assurance of compliance.
Assurance to Stakeholders:
Not only can ISO 27701 provide assurance to senior management and the board of directors, the standard can also help you build trust with other stakeholders such as customers, partners and shareholders; by providing tangible evidence of your organization's commitment to protecting PII. 
Suitable for all Organizations:
ISO 27701 is known for its versatility . It's written in such a way that it works for organizations of all sizes and from all business sectors. It is also structured to differentiate the guidance for PII controllers and PII processors.
What is PII?
Personally Identifiable Information is defined as any representation of information that permits the identity of an individual consumer or device to whom the information applies to be reasonably inferred by either direct or indirect means. 
A PII controller is the entity that determines the purpose and means for processing PII, defines why and how PII is processed, and is responsible for implementing privacy and security protocols to meet the applicable legal standards. The PII processor then processes the PII on behalf of and according to the instructions and privacy controls set by the PII controller.
Do we need to implement or to be certified to ISO 27001 first?
Although it certainly helps to, No need for prior certification of ISO 27001.
If you have already implemented an ISO 27001 compliant Information Security Management System (ISMS), you can relatively move forward with extending your management system to include the processing of PII and develop a Privacy Information Management System (PIMS).
However, if your organization has not yet implemented the previous, you can implement a combined ISMS and PIMS and achieve certification for both ISO 27001 and ISO 27701 simultaneously. 
To be able to provide stakeholders with the added assurance of an independent validation of the way you protect privacy and manage personal information is a must for every entity nowadays. And ISO 27701 helps you achieve this.
About Kanerika
Kanerika is a niche consulting firm building efficient enterprises with deployment of automated, integrated and analytics solutions. Kanerika enables efficient enterprises through its unique digital consulting frameworks and AIOps enabled compostable solution architecture. We partner with some of the top vendors to solve some of the critical data and process related challenges. We help some of the top brands across the globe in increasing their speed to respond in evolving market conditions, reducing their cost of operations, empowering them with the right tools and insights for effective decision making.