Faster Analytics Performance
Affordable Implementation
Save Days Worth
of Effort
About Client:
A global leader in spend management that combines industry-leading cloud-based applications with deep domain expertise. Also, transforms logistics freight and parcel audits to help customers better manage and control their global logistics spend and drive enterprise-wide efficiency. With a global footprint spanning North America, Latin America, Asia, and Europe, they deliver data-based visibility and insights, higher savings, and better control of transportation spending for shippers of all sizes.
Challenges
Retail and Logistics service companies/divisions have a significant pain point of identifying the logistics/shipment cost across regions, seasons, modes, etc. The experience-based decision or preferred vendor approach is the most common way of allocating the vendors across the logistics industry leaving the efficiency, performance, and delivery predictability completely out of scope of the decision-making.
Close of accounting periods in the absence of real delivery receipts

Historical Data, Experience, and Competition based pricing

No capability to use the what-if scenarios to arrive best suitable pricing for specific goods
Featured services
AI/ML in Predicting Values
All the use cases including cost allocation, accrual status change, maximum weight, and minimum charge sheets have been taken care of while building the logic and at its execution time.
Intelligent Data Mapping Techniques
Intelligent mapping and learning techniques and methods defined and available to users. This technique improves the outcome accuracy.
Currency Conversion
Based on the financial region, data included multiple Currencies and systems predict the choice of currency using the international rates from standard currency rate providers.
Solution
Kanerika developed an AL/ML enabled Pricing Discovery Engine (PDE) that automatically learns and uses more than 23 parameters to predict the potential pricing by shipments using ASNs (Advance Shipment Numbers). The predictive engines use multiple Machine learning algorithms to suggest the potential pricing with 93% accuracy.
Approach: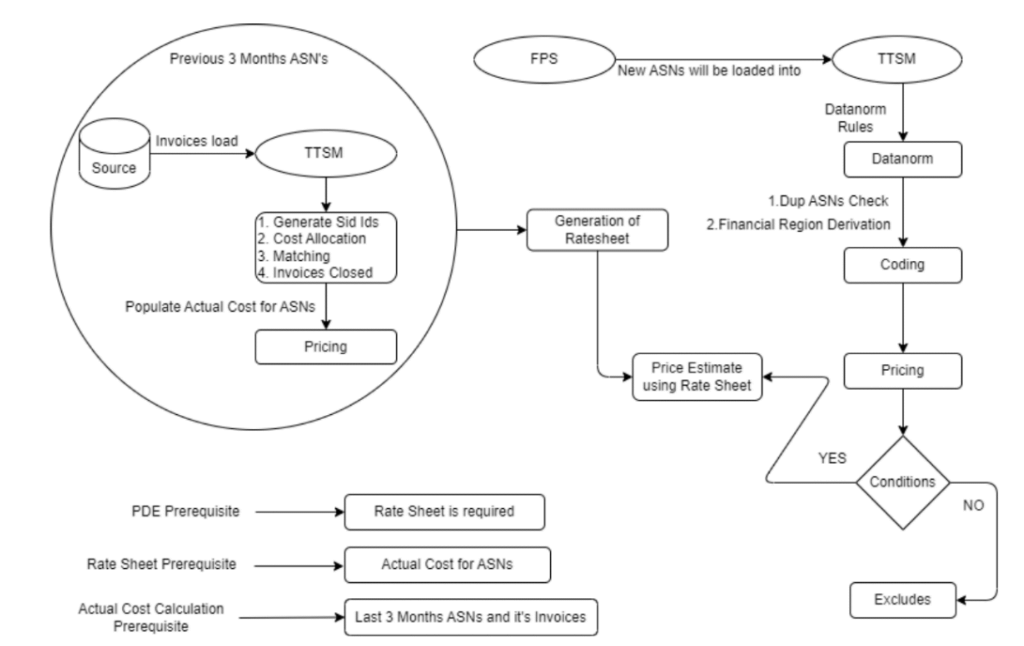 Business Impact:
Better Visibility and Cost Management– The User has cost visibility at the time of shipment booking.
Reduced Delays in Account Closure– The user can predict all shipment prices, reducing delays in closing accounting periods.
Avoid Price Discrepancies- Avoids price discrepancies during estimation
Cost Effective– More than 17% direct cost-savings across regions/seasons/modes/goods etc every quarter.
Route Reliability– Improves the delivery predictability by more than 19%.
Why Kanerika?
Kanerika is a lead global IT consulting company offering innovative solutions & services for businesses. Kanerika focuses on Data Integration, Analytics , Process automation and Cloud Management as core focus areas apart from Custom Product Development. ISO 27701 certified and SOC II compliant Kanerika processes ensure the quality, predictability and  partnerships.  Kanerika's technology and process expert teams have been helping its global clients with development and automation using agile methodologies.