Faster analytics performance
Affordable Implementation
About
The client is a leader in enabling smart connectivity and mobile services. Their telemetry analysis platform for connected vehicles generates insightful data based on cognitive analysis to aid in the development of secure, intelligent and environmentally responsible mobility solutions. Connected vehicles platform offers a "Plug-Configure-Play" solution to enhance safety, effectively manage fleets and create new revenue streams. 
The Platform is used across several industries, including automotive OEMs, EV manufacturers, auto insurance, auto service providers, government, and various innovative connected vehicle businesses.
Challenges
Being a telematic analytics company, Client is concerned about providing a holistic platform consisting of cost effective, optimized domestic/ fleet/ commercial vehicle solutions that would help them be on top in the respective industry. A platform that monitors vehicles through connected devices should be able to use the functional excellence of the telematics in order to provide the best connectivity.  Client wanted to introduce a specific functionality for safety elements into the platform which would help the guardians/ families to assure their family safety; and in the case of commercial vehicles, it would help operational expenses, delivery time etc., that gives repose through advanced location sharing and coordination. Customers want to be informed about their vehicle whereabouts i.e., if the vehicle strays from the designated path or perimeter. To prevent any unauthorised use of vehicles, reduce operational costs, and improve delivery time for shipments; the platform needed a solution.
Featured services
Automated Application Process
Ensures higher productivity and efficiency with a significant reduction in spent time.
Data Integration and Consolidation
The process of consolidation which earlier used to take a weeks' time can now be executed within hours.
Consolidated Reporting
Significant improvement in workforce productivity and business performance on account of automation of data consolidation and analytics.
Improved performance
Significant improvement in workforce productivity and business performance on account of automation of data consolidation and analytics.
Solution
A functionality that can provide real-time alerts to the guardian/family, and geo access control, prevent any unauthorized use of the vehicle, and offer peace of mind to the customers would help the issue at hand.
Kanerika's team developed a sophisticated solution, Location Intelligence Services. It's a marvel of a geolocation algorithm that is integrated with a vehicle telematics control unit. The system operates by continuously collecting trip data and comparing it to the pre-configured locations. In the event that the data falls outside of the defined latitude and longitude boundaries, an alert will be triggered and sent to the specified email address/ SMS/ Call. One can even send silent alerts with their location to emergency contacts.
This solution allows for granular control, enabling customers to set up alerts for individual vehicles or groups of vehicles; thus primarily enhancing emergency response time, passenger safety, and in addition cost optimization, reduced TAT etc.,. Custom access control is implemented, providing the owner of the vehicle full control of the vehicle's permissible perimeter.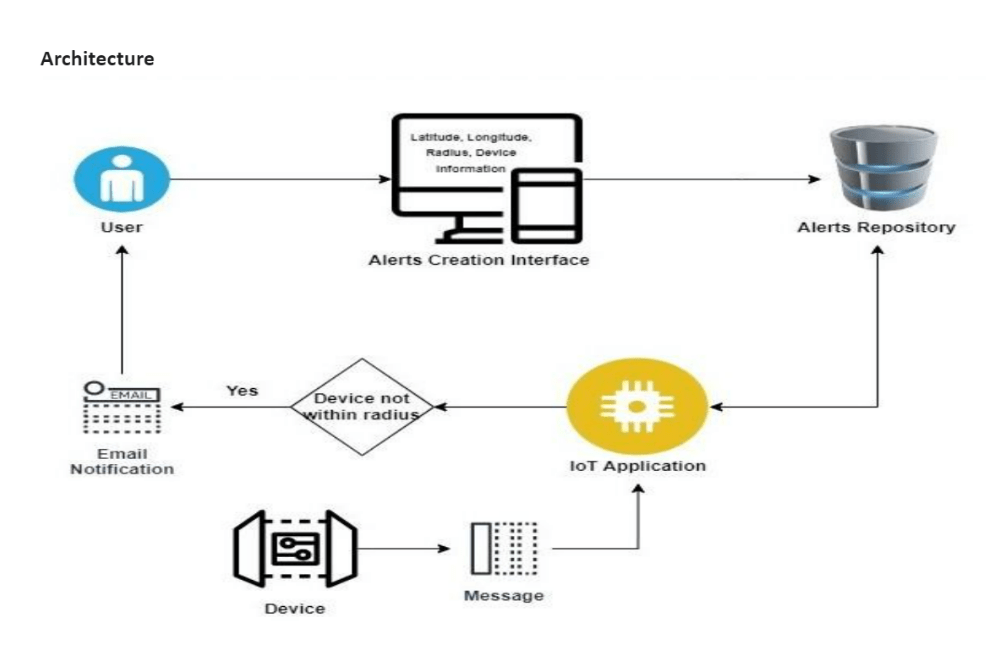 Business Impact:
Improved Passenger Safety:

Virtual perimeter instant alerts can help speed up the response time, thus safety assurance of the passenger.

Increased Customer Satisfaction:

The implementation of Geofencing alerts enhanced customer satisfaction by providing them with real-time information about the location of their vehicle, enabling them to plan and coordinate their schedules better.

Reduced Operational Costs:

By preventing any unauthorized use of vehicles, the platform can reduce operational costs for businesses using the connected vehicle platform. Geofencing alerts can help businesses manage their fleets more effectively, leading to cost savings and increased efficiency.

Enhanced Delivery Time:

Geofencing alerts can help businesses to improve delivery time for shipments by ensuring that vehicles stay on course and do not deviate from the designated route. This feature is particularly useful for businesses that rely on the timely delivery of goods, such as logistics and transportation companies.

Competitive Advantage:

With the integration of Geofencing alerts, the connected vehicle platform can offer a unique feature that sets it apart from competitors, providing a competitive advantage in the market.

Improved Risk Management

: Geofencing alerts can help in risk management, especially for businesses that operate in high-risk areas, by providing real-time alerts if a vehicle enters a restricted or dangerous area.

New Revenue Streams:

The implementation of Geofencing alerts can create new revenue streams for the client by offering this feature as a premium service to customers or by charging a fee for each alert sent.

Enhanced Data Management:

Geo-fencing alerts collect and store valuable trip data, which can be used to optimize routes, track fuel usage, and inform future business decisions.
Why Kanerika?
Kanerika is a leading global IT consulting company offering innovative solutions & services for businesses. Kanerika focuses on data integration, analytics , process automation and cloud management as focus areas apart from custom product development. ISO 27701 certified and SOC II compliant Kanerika processes ensure the quality, predictability and  partnerships. Kanerika's technology and process expert teams have been helping its global clients with development and automation using agile methodologies.