Faster analytics performance
Affordable Implementation
Save Days Worth
of Effort
About Client
The client is a leader in enabling smart connectivity and mobility services. Their telemetry analysis platform for connected vehicles generates insightful data based on cognitive analysis to aid in the development of secure, intelligent and environmentally responsible mobility solutions. Connected vehicles platform offers a "Plug-Configure-Play" solution to enhance safety, effectively manage fleets and create new revenue streams.
The Platform is used across several industries, including automotive OEMs, EV manufacturers, auto insurance, auto service providers, government, and various innovative connected vehicle businesses.
Challenges
Majority of Fortune 100 companies either have or will have their own data analytics platform as a standard across the enterprise. As much as point solutions like telematics analytics or similar specific analytical solutions are relevant for one or more divisions or may be to the core of the company, it still has to fit into the realm of the enterprise data analytics platform in the technology and deployments options expected or suggested.
In order to provide the seamless data availability on the client's enterprise data analytics platform, the challenge of the client was to create a solution for delivering the telematics analytics ready data in the format of its customer across various environments like cloud (AWS, GCP, Azure, OCI etc) or on-premise technologies or real time streaming.
Having the data in the same enterprise platform helps their customers to connect and analyze all data in consistent ways and provide the relevant KPIs accordingly.
Featured services
Test Device Generation
Created test devices and device data using AI for each machine to ensure data flows across the platform's features.
Automate Data Synthesis
The automation first approach of Kanerika helped the platform to understand the data volume, characteristics, variations, etc, and subsequent analytical capabilities offered.
Solution
Kanerika's solution streamlines a comprehensive data destination setup process by automating the configuration and deployment of data storage systems like Amazon S3, Kafka etc. Ensuring data security and integrity, while also reducing the time and effort required to manually setup data destinations. With this setup, client could seamlessly integrate multiple data sources, configure custom data processing rules, and choose from a range of pre-integrated data destinations including cloud storage, data warehouses (cloud or on-premise) and business intelligence tools.
Approach: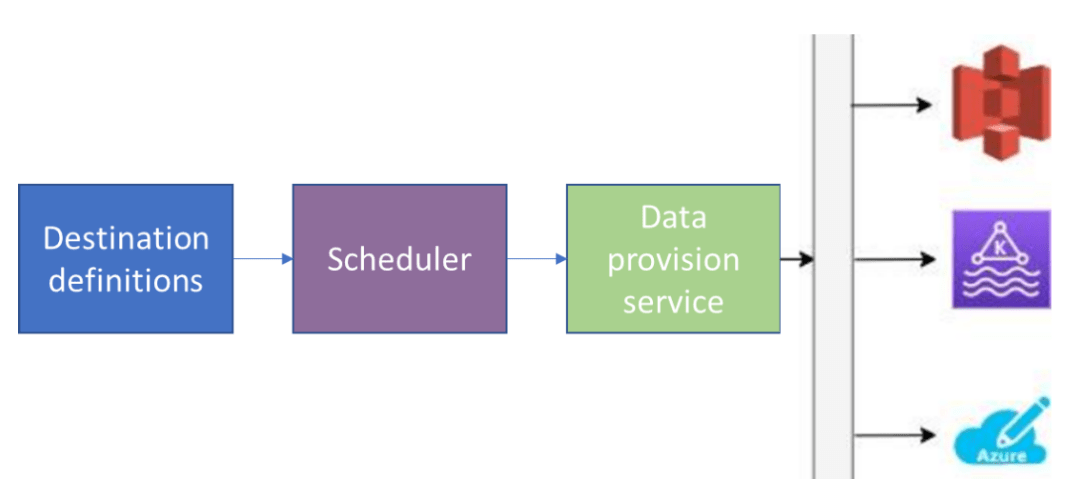 Results
Increased operational efficiency
Improved business decision making
Enables telematics data on enterprise data analytics platform
Data migration over secure transfer channel
Better Visibility- With the data provisioning capabilities, customers can now have telematics data on the same platform as other data types.
Storage: Customers can store data in their preferred data destinations like Amazon S3, Kafka, etc.
Data Analytics: Customers can use consistent analysis of all its data and provide KPIs accordingly.
Why Kanerika?
Kanerika is a lead global IT consulting company offering innovative solutions & services for businesses. Kanerika focuses on Data Integration, Analytics , Process automation and Cloud Management as core focus areas apart from Custom Product Development. ISO 27701 certified and SOC II compliant Kanerika processes ensure the quality, predictability and  partnerships.  Kanerika's technology and process expert teams have been helping its global clients with development and automation using agile methodologies