Faster analytics performance
Affordable Implementation
Problem
Leading extended healthcare provider in North America manages the invoices from their remote centres to central location and to banks for payment processing. Remote centres send the invoices at central location via email, mostly PDF invoices (scanned or images). Central Team of AP specialists receive these invoices, manually creating those invoices in workday for processing and sending the request for payment to banks. This manual process leads to delayed or missed payments and more importantly processing refunds of advance payments.
Healthcare provider was looking to automate this invoice processing for all its 30+ remote healthcare centres.
Key Challenges
Remote staff isn't of IT specialists and hence aren't trained to use AP systems to enter invoice data. Also, application security configuration is not structured due to various reasons thereby making invoice data invisible across centres. This leads to local invoice creation on remote centres and sharing via email implying that:
It is a tedious process, a lot of time is consumed in carrying out the tasks.

Human error and data getting lost in translation is bound to happen. 

Invoice entry from the received emails always leads to reconciliation challenges
When you automate Accounts Payable workflows, you guarantee that each invoice is delivered and managed on time, including invoice exceptions, building trust and increasing suppliers' confidence.
Featured services
End-to-end project visibility
DevOps Scorecard that was generated provided visibility across the entire software lifecycle.
Speed and agility in projects
DevOps method ensures that speed and agility in successful deployment of projects and fosters accountability of projects thereby increasing customer satisfaction.
Faster data consolidation and integration
The process of consolidation which earlier used to take a weeks' time can now be executed within hours.
Improved performance
Significant improvement in workforce productivity and business performance on account of automation of data consolidation and analytics.
Scalable solution
Reduced cost, complexity, and security risks with an analytics platform that scales from individuals to the organization as a whole.
Solution
Kanerika used Automation Anywhere software as a default choice of implementing the automation use cases for its healthcare customer
Designed  and documented the Extraction and Workday Data Entry Process

Automation Implementation:




I. Configured the Email extraction BOT.




Ii. Invoice Data Extraction BOT development




Iii. Workday Invoice Data entry BOT development




Iv. Integrate Data Extraction BOT and Data Entry BOT




V. Exception Management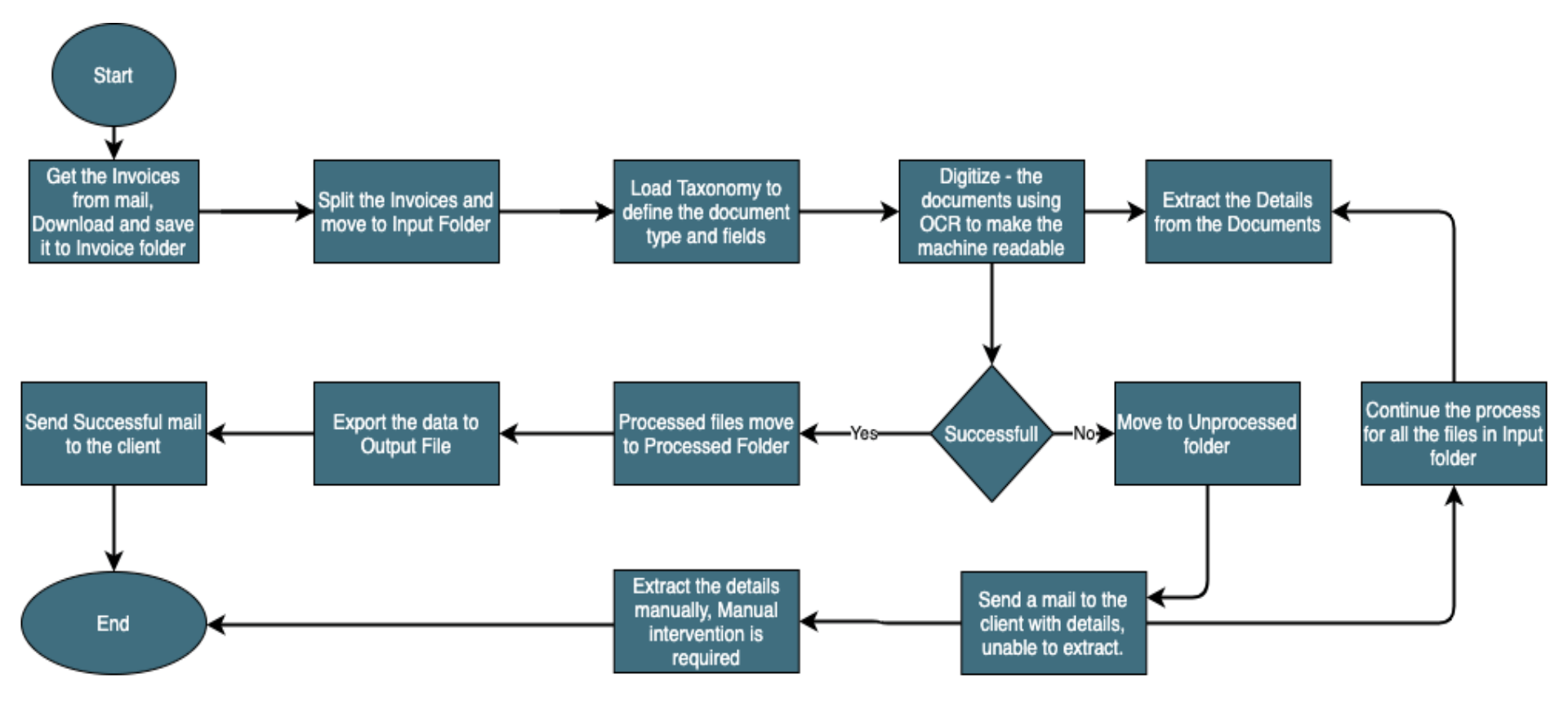 1.1 Process for Invoice Data Extraction 
Results
Improved transparency for better supplier engagement 

Existing AP investment made more efficient 

Easier onboarding and processing of invoices at scale.

Reduced manual errors and dependency

Improved customer and employee satisfaction
Why Kanerika?
Kanerika is a niche consulting firm building efficient enterprises with deployment of automated, integrated and analytics solutions. Kanerika enables efficient enterprises through its unique digital consulting frameworks and AIOps enabled compostable solution architecture. We partner with some of the top vendors to solve some of the critical data and process related challenges. We help some of the top brands across the globe in increasing their speed to respond in evolving market conditions, reducing their cost of operations, empowering them with the right tools and insights for effective decision making.