Faster analytics performance
Affordable Implementation
Company Profile
Client is a leading media production company in the film, television and streaming industry, producing and distributing across the globe. Keeping up with the latest technologies, the company always aims for the best quality media production innovating creative platforms. Well known for its rating system, they always are up-to-date with the dynamic market landscape.
Problem Statement
Leading media production company in the world was upgrading the CRM systems to new MS Dynamics CRM and required the customer support executive to look at eight different systems, mix of On-prem and Cloud. This was in order to serve the employee calling in for health and pension plans available to them to avail various services. The challenge was to present this information in the least amount of time without compromising on time delivery, data security, efficiency in a cost effective manner.
Challenges
The traditional approach of such requirements would be to create a warehouse and sync all transactional data into a single place and let it be integrated to CRM or use point to point traditional integration to connect application integration points. Data consolidation or Data Lake option is not shortlisted as these internal systems have 1000s of employees' historical data and moving and consolidating them at a single place would always lead to data trust and freshness issues.
Therefore, both options were discarded in the interest of the new technology options available while Dynamics 365 CRM customization is being built. So, it was challenging to build an integration layer while consuming later D365 systems being built as D365 could change the integration requirements along the way. Scope of such integration to get health eligibility data, sync membership identity and demographics, always keep email addresses in sync across all systems in real time. Additionally pensions and providers data to be kept in sync while connecting the employee data with deep links to healthcare imaging systems documents.
Challenges with legacy systems-
Compatibility-

Because it is built on old technology, the legacy system may eventually become incompatible with modern systems and technologies that are nonetheless crucial to the company's operations. So, changing the legacy system for integration purpose with MS Dynamics would be tricky.

Security-

Patches that end up allowing security breaches are created because of a lack of support, updates, or maintenance, as well as the use of antiquated security protocols and standards. The data included PII and PHI data as well, so the solution had to be fully compliant with regulations and handling sensitive data.

 

Effectiveness and efficiency-

Performance, efficiency, and productivity may all suffer as legacy systems age. Keeping an old system running requires spending money on a piece of technology that will eventually have to be replaced. In contrast to newer systems, legacy ones are not typically designed to share data with others.

Hybrid Environment –

All eight systems including MS 365 Dynamics CRM was a combination of hybrid environments and included on prime applications as well as cloud.
Featured services
Automated Application Process
Ensures higher productivity and efficiency with a significant reduction in spent time.
Data Integration and Consolidation
The process of consolidation which earlier used to take a weeks' time can now be executed within hours.
Consolidated Reporting
Significant improvement in workforce productivity and business performance on account of automation of data consolidation and analytics.
Improved performance
Significant improvement in workforce productivity and business performance on account of automation of data consolidation and analytics.
Solution
Kanerika's data integration team architected the solution consisting of Informatica iPass with D365 connector and other standard connectors that enables the application integration performant, scalable, secure, and future ready and integrated with other systems consisting of DB and API based integration.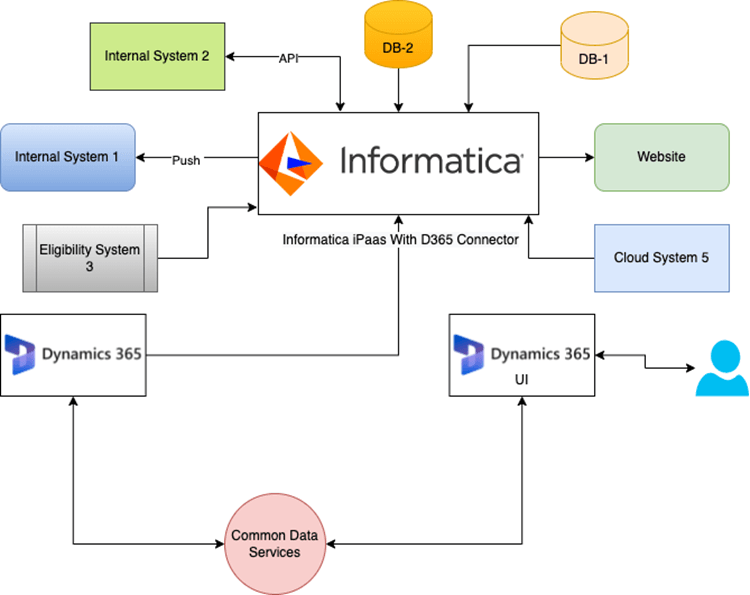 The challenging aspect of this implementation included the real time integration to get the large set of data that needed to be paginated on D365 screens, API call audits, API call performance transparency and above all exception management as the entire solution had to be PHI and PCI compliant.
Benefits:
Experience a new and modern user interface:   


First, the new user interface design gives all intelligent cloud services and experiences the same look and feel. This is done by using a common user interface shell and service switcher for Designer, Operator, and Administrator roles. Next, the new design adds the idea of  workspaces, which let users keep multiple tabs open in a cloud service. With this feature, users don't lose the state of the assets they are working on when they move from one screen to another or open multiple assets to get more information to finish their workflow.
Managing assets together:
Customers find it harder to manage their assets as the complexity of their data and the amount of work needed to integrate it grows. The Explore user interface has projects and folders that help solve this problem and allow customers to organize their integration assets using a taxonomy that fits their business needs and has the right security controls.
 APIs that make Continuous Delivery possible:
With the IICS platform, we're promoting the DevOps practice of iterative development and close collaboration between developers and IT operations all the way through the project's lifecycle. We are making project/folder/asset export and import APIs more visible so that DevOps practices can be used. These APIs help with continuous delivery by automating external version control systems, release, and deployment pipelines. IICS also has automated monitoring features that complete the agile team-based development model between developers and operations. These features allow for continuous delivery.
Results:
 PHI/PCI compliant, Real time integration across all systems.

Application integration using APIs and call-backs as opposed to data warehouse approach which always lags on data freshness.

30-40% Time saved for integration as it was built along with D365 implementations as opposed to post facto.

Robust exception management and user experience in D365 if downstream systems were unavailable or had huge data or data is not available.

 Agile, in-time and always trustable data across all systems.

Proactive Monitoring and exception managements

Cost efficient and minimalized manual workers requirement.


Incorporating and automating third-party integrations.
Why Kanerika?
Kanerika is a leading global IT consulting company offering innovative solutions and services for businesses. Kanerika focuses on data integration, analytics, process automation and cloud management as core focus areas apart from custom product development. ISO 27701 certified and SOC II compliant, Kanerika processes ensure quality, predictability and partnerships. Kanerika's technology and process expert teams have been helping its global clients with development and automation using agile methodologies.