The healthcare sector is facing a resource crunch like never before. Despite the United States spending trillions of dollars on healthcare, its performance in comparison to other developed nations is unsatisfactory. In fact, the US ranks 11th out of all developed countries in terms of healthcare system performance. This is a clear indicator that the industry needs to change its existing infrastructure and process. DataOps is the healthcare industry's answer to that problem.
The Covid-19 pandemic was a disaster for the US on many levels. It overwhelmed the US healthcare system with a surge of patients requiring intensive care, testing, and treatment. This resulted in delayed diagnosis, treatment, and management of many non-COVID-19 health conditions. Two years after the pandemic, hospitals are still struggling to reboot.
When resources are limited, the most viable option is to optimize the utilization of available resources. Fortunately, DataOps can transform healthcare by playing a significant role.
Challenges Facing US Healthcare
Financial Challenges
Hospitals face increasing operating expenses, such as labor costs, supplies, utilities, maintenance, and rising capital costs.
In 2019, a survey of 1,481 community hospital CEOs showed that their biggest concern was finance. They were worried about increasing operating expenses, rising staff costs, and slow and inadequate reimbursement rates from insurance companies. These financial challenges were seen as the most significant issues for healthcare administrators. Fortunately, DataOps can help healthcare by saving costs. DataOps automation tools have saved millions in costs for other industries by revealing key expenditures and suggesting useful corrections through data.
Workforce Challenges
Hospital administrators also struggle with the challenge of finding well-trained staff. Hospitals need different types of health professionals to care for patients, like nurses, doctors, physios, and medical technicians. But there aren't enough qualified people to fill all these jobs.
According to a report by the Association of American Medical Colleges, the U.S. will face a shortage of between 54,100 and 139,000 physicians by 2033.
Similarly, according to a report by the American Nurses Association, there are more than 1 million registered nurse vacancies right now.
Quality and Safety Challenges
Another problem for hospital administrators is ensuring patients get the best care and avoid harm.
Hospitals must follow myriad safety rules and meet quality standards set by various oversight bodies. They can be fined heavily if they don't follow the rules. Administrators must create programs that collect data, train staff and involve patients to improve care. They also have to worry about newly emerging risks like cyberattacks. Thus, it is crucial for healthcare to invest in DataOps and ensure their data reveals key business insights for their growth.
Understanding DataOps for Healthcare
DataOps is a set of practices, processes, and technologies that aim to improve the quality of data analytics.
It is a method where data analysts, scientists, engineers, and IT teams work together to transform data. DataOps combines principles from Agile software development, DevOps, and lean manufacturing. For healthcare, DataOps tools like FLIP can run automated data processes that do not require an entire team to operate.
DataOps has recently become popular because CEOs want to make better decisions using data. They need to do it quickly to stay competitive. Waiting for the IT team to set up a dashboard or create a report is not viable anymore. 
A recent survey has shown that 73% of businesses are interested in implementing DataOps.
DataOps: Benefits for the Healthcare Industry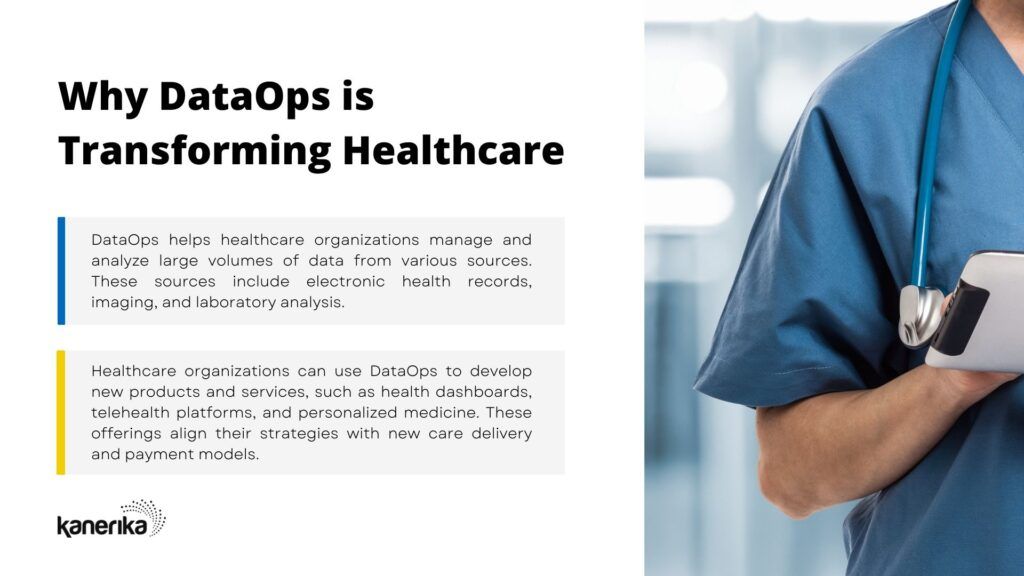 DataOps can help healthcare companies transform their data into an asset that drives operational excellence and clinical effectiveness. Similarly, DataOps can deliver a much better patient experience.
Overall, by leveraging DataOps, hospital administrators can make better decisions and compete in a rapidly changing healthcare landscape.
Eight Benefits of DataOps for Healthcare
DataOps helps healthcare organizations manage and analyze large volumes of data from various sources. These sources include electronic health records, imaging, and laboratory analysis.

With DataOps, healthcare organizations can automate data pipelines, ensure data quality and governance, and use data mining techniques to extract valuable insights from data.

DataOps improves healthcare operational efficiency and performance. It achieves this by optimizing resource utilization, staff scheduling, and patient admittance. DataOps can also aid in clinical decision support and operational improvement.

Healthcare organizations can use DataOps to forecast demand and supply, and allocate resources and staff more efficiently. DataOps can also identify high-risk patients, recommend optimal actions and decisions, and suggest alternatives.

DataOps enhances the quality and safety of care. This is possible due to constant monitoring of patient outcomes, avoiding treatment errors, and complying with standards and regulations.

Through DataOps, healthcare organizations can track quality and safety indicators and identify improvement opportunities. It is easier to implement best practices and evidence-based medicine and engage patients and staff in quality improvement initiatives.

DataOps enables healthcare organizations to innovate and transform their services and processes. This happens because of adapting to the changing needs of patients, evolving care delivery models, and advancements in science.

Healthcare organizations can use DataOps to develop new products and services, such as health dashboards, telehealth platforms, and personalized medicine. These offerings align their strategies with new care delivery and payment models.
FLIP: Transforming Healthcare with DataOps Automation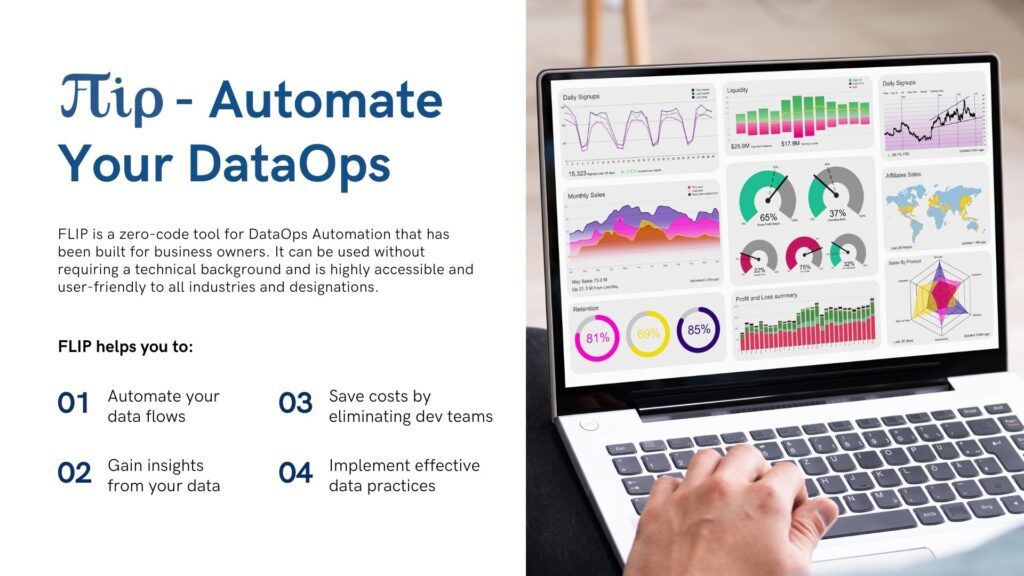 Healthcare is a multi-billion dollar industry in the US, and it can be quite a hassle to work with endless data processed daily. With FLIP, you can unlock the power of your data to improve your services. Our zero-code DataOps is optimized for healthcare executives to analyze and gather business insights. FLIP makes it easy for anyone to automate processes and save time and resources.
FLIP seamlessly combines raw data from all sources, runs transformations, and delivers actionable insights effortlessly. Our DataOps tool takes care of scaling, monitoring, error handling, and recovery of the data pipelines, giving you the freedom to focus on your business.
Ready to see the benefits of DataOps for healthcare? Sign up for a free 30-day trial today and revolutionize your healthcare business with the power of data.
Thank you for reading our new series of posts on FLIP. If you want to know more about Kanerika and FLIP, please write to us at contact@kanerika.com.
Follow us on LinkedIn and Twitter for insightful industry news, business updates and all the latest data trends online.